Viewer Mail for Monday, August 17
By:
Factor Producers
August 17, 2009
DOUBLE STANDARD?
The media went wild when Gov. Mark Sanford (R-SC) admitted to infidelity. So why isn't it reporting all the developments in the John Edward affair with as much gusto?

"The John Edwards affair is not even close to on par with the Mark Sanford affair. Edwards ran for President, possibly paying illegal hush money to his mistress and love child, while lying about it all."
Victor Wernicki
Rutherford, NJ

"The mainstream media ignores the John Edwards' love child story, while going out of its way to create stories to keep Sarah Palin in the news."
Jimmy Conner
Tavares, FL

"Your guest keeps saying John Edwards is old news. She should tell President Obama that the next time he says he inherited Bush's mess."
Tina Dean
Santa Maria, CA

"The reason the media makes a bigger deal out of the indiscretions of Republicans is because of the moral foundation of conservative ideology."
Michael Lewis
Chapel Hill, NC

"Both Sanford and Edwards lied to the American public, lied to their families, and completely destroyed the sanctity of marriage. There is no difference between them."
John Dollan
Havre, MT

"The two men are not equal. Edwards fathered a child and stands accused of committing fraud with campaign money. Sanford did neither of those two things."
Judith Koch
Springville, CA

"Your guests said John Edwards is no longer relevant because he's out of office. Would they apply the same logic to Sarah Palin, for example?"
Mark Watkins
South Bend, IN

"I absolutely agree that there's not enough coverage of the John Edwards story. The media coverage of conservative scandals is elevated to an appalling degree."
Jim Beaulieu
Eden Prairie, MN

UNHAPPY MEAL
In an effort to turn kids against McDonalds' meat products, the animal activists at PETA are targeting Happy Meals.

"There is no excuse for PETA to be giving children nightmares to further their agenda. Parents should hold them responsible."
Kathleen Kenny
Middletown, NJ

"What gives PETA the right to upset my grandchildren by showing Ronald McDonald running around with a knife?"
Dan Workman
Millersburg, OH

"PETA people are not loons! What's wrong with telling kids the truth?"
Lisa Anderson
Miami, FL

"The McCruelty campaign is being run by McIdiots."
Len Willens
Green Valley, AZ

"It's a free country, and compassionate kids should be raised by their parents, not PETA."
John Thompson
Sun Prairie, WI

"Kids do not want to know where their McNuggets come from. Why can't we just let our kids be kids?"
Nickie Doukas
Punta Gorda, FL

"What's next for PETA -- cruelty to lobsters? They're dropped alive into scalding water, you know."
J. Pilcher
Auburndale, FL

"Scaring kids is gutless. PETA representatives should grow up and take their beef to the adults who are responsible for the behavior they disagree with."
Mike McCurdy
Coppell, TX

RECOVERING POTHEAD?
Actor Brad Pitt tells Bill Maher he gave up marijuana when he became a father, but boasts about his artistic ability to roll a joint.

"Brad Pitt doesn't believe smoking pot made his life miserable, so he won't say it did just to please the likes of you, O'Reilly. He is a responsible father and should be commended."
Josh Parham
Flossmoor, IL

"I watched the Brad Pitt interview, and it was Bill Maher who pursued the marijuana discussion. In my opinion, Mr. Pitt seemed uncomfortable talking about it."
Ruth Hamshar
Colorado Springs, CO

"Celebrities like Brad Pitt need to understand that illegal drug use keeps urban areas mired in poverty."
Mark Davis
Honolulu, HI

"Why is Brad Pitt everywhere talking about politics? Is he running for office or something?"
Barbara McGregor
Quincy, MA

"I believe Brad Pitt when he says he no longer smokes pot. But Bill Maher is obviously still on drugs."
Mark Yax
Solon, OH

40 YEARS LATER
As hippies everywhere celebrate the 40th anniversary of the Woodstock festival, O'Reilly explains why he wasn't in on the fun.

"My wife and I are huge fans of the show. Thank you for not going to Woodstock and doing LSD. You might not be where you are today."
Robert Stout
Fontana, CA

"While you were painting houses in 1969, I was delivering toilets for my Uncle Eddie in Newark, NJ, so I couldn't go to Woodstock either. I love the music, but I don't think I missed a thing."
Frank Wiener
Princeton, NJ

"My blue-collar family relied on my earnings from my summer job. I had to decline tickets. And as Robert Frost would say, it made all the difference."
Greg Peddle
Glen Head, NY

MISCELLANEOUS
"I gave a copy of 'Bold Fresh' to my terminally ill friend. I know it was the last amusing thing she ever read."
Karen Larkin
Mendham, NJ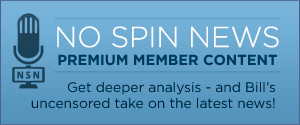 | | |
| --- | --- |
| OCTOBER 31, 2014 | | PM Rating: A+ |
Greg Gutfeld hosts The O'Reilly Factor, Friday 10/31
A judge has ruled in favor of Kaci Hickox, the nurse who treated Ebola patients in Africa and...
Elite universities have routinely banned conservatives from speaking on campus, but now left-wing...