A very comfortable 7.2 oz., crewneck sweatshirt (75% Ring-spun Cotton / 25% Polyester) with contrast visible stitching and backpatch. This is one very nicely constructed sweatshirt in a classic style that is sure to become your favorite.

Check out all the products in our USA Strong Shop
Sizing Chart
| Measurement Point | S | M | L | XL | 2XL | Tolerance |
| --- | --- | --- | --- | --- | --- | --- |
| Chest | 20" | 22" | 24" | 26" | 28" | +-3/4 |
| Front Shoulder Breadth | 15" | 16" | 17 1/2" | 19" | 20 1/2" | +-3/4" |
| Length from HPS | 25 1/2" | 26" | 26 1/2" | 27 1/4" | 28" | +-1" |
| Shoulder Length | 4 1/4" | 4 3/4" | 5 1/4" | 5 3/4" | 6 1/4" | +-1/4" |
| Forward Shoulder | 1 3/4" | 1 3/4" | 1 3/4" | 1 3/4" | 1 3/4" | +-1/8" |
| Sleeve Length (center cap to incl.cuff) | 24" | 24 1/4" | 24 1/2" | 24 3/4" | 25" | +-3/4" |
| Sleeve Length (center back to incl.cuff) | 32" | 32 3/4" | 33 3/4" | 34 1/2" | 35" | +-1" |
| Undersleeve Length | 20" | 20" | 20" | 20" | 20" | +-3/4" |
| Armhole | 10" | 10 1/2" | 11" | 11 1/2" | 12" | +-3/4" |
| Armhole from HPS | 9 1/2" | 10" | 10 1/2" | 11" | 11 1/2" | +-1/2" |
| Neck Opening | 7 3/4" | 7 3/4" | 8" | 8" | 8 1/4" | +-1/2" |
| Front Neck Drop | 3 3/4" | 4" | 4" | 4 1/4" | 4 1/2" | +-1/4" |
| Back Neck Drop | 1 1/2" | 1 1/2" | 1 1/2" | 1 1/2" | 1 1/2" | +-1/4" |
| Neck Rib Height | 1" | 1" | 1" | 1" | 1" | 1/8" |
| Cuffs Height | 2" | 2" | 2" | 2" | 2" | +-1/8" |
| Cuffs Opening | 3 1/2" | 3 1/2" | 3 1/2" | 4" | 4" | +-1/2" |
| Waistband Height | 2" | 2" | 2" | 2" | 2" | 1/8" |
| Waistband Opening | 17 1/2" | 19 1/2" | 21 1/2" | 23 1/2" | 25 1/2" | +-1/2" |
| Across Shoulder | 15 1/2" | 16 1/2" | 18" | 19 1/2" | 20 1/2" | +-3/4" |
| Shoulder Slope | 1 1/4" | 1 1/4" | 1 1/4" | 1 1/2" | 1 1/2" | +-1/4 |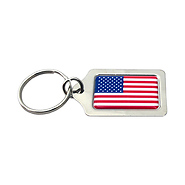 | | |
| --- | --- |
| Your Price | $2.95 |
| Member Price | $2.65 |

By Sondra R.-20807660 from CARSON, WA on April 06, 2017
Color: Navy
I LOVE this sweatshirt! There are three reasons why I LOVE this sweatshirt - 1) the logo; 2) the soft fabric; and 3) the way it fits so comfortably on me.

By Clara Nell E. from ORLANDO, FL on January 29, 2017
Color: Navy |
Premium Member
This was the 2nd shirt I ordered. True to size, laundries beautiful

By Carol H. from RIGBY, ID on November 07, 2014
Color: Navy
This is the third article of clothing I have purchased. All three have been wonderful! They are high quality. This one is soft and warm as the cold weather approaches. I am proud to be "USA Strong!"

By April C. from RENTON, WA on September 03, 2014
Color: Navy
I love this soft sweatshirt. What I want to really say is that I had to return another shirt because it was too big. I returned it and then ordered the sweatshirt, which was a little too big also. So I returned it for a smaller size. Twice returning items to the store. I was so impressed with their return policy. I was shocked how fast I rec'd the replacement shirts. Totally amazed. Great place to do business with.