Viewer Mail for Thursday, March 12
By:
Factor Producers
March 12, 2009
GUILTY PLEA
Bernie Madoff pleads guilty to a massive ponzi scheme that wiped out the life saving of many Americans. Will this mean massive prison time for the swindler?

"I'm sure Bernie Madoff pled guilty so his family could cut deals."
Tim Cushing
Winder, GA

"Your coverage of the Madoff situation is warranted. He is a rapscallion of epic proportions."
Fred Fraenkel
Short Hills, NJ

"I have friends who lost everything investing with Bernie Madoff. Ordinary prisons are too good for him -- send him to Gitmo!"
Thomas Griffin
Seattle, WA

"Of course, Ruth Madoff has $70 million. She invested $10,000 into her husband's ponzi scheme and it paid off."
Gary Rohm
Deltona, FL

"If Bernie and Ruth filed joint tax returns, wouldn't that make her culpable?"
Astrida Riders
Avon Lake, OH

"Madoff should only be let out of prison to play the penguin in the next Batman movie."
Joel Davis
Edmond, OK

"I wonder how many civil libertarians who lost money with Bernie Madoff would be willing to see him waterboarded to find out where their money is."
Mel Scott
Vista, CA

"Perhaps Madoff's victims were greedy too if they invested everything they had with the swindler."
Sam Nall
Homosassa, FL

"I don't condone what Madoff did, but as the old saying goes, 'if it sounds too good to be true than it probably is.'"
Vince Matuza
New Jersey

"If Madoff were an elected official, he'd still be living in his penthouse and not the big house."
Mary Sanders
Flippin, AR

LOVE ON THE ROCKS
The far-left goes nuts with glee over the breakup of 18-year-old Bristol Palin and the father of her baby.

"With all the problems this country is facing, how pathetic is it that the left has nothing to offer but brass knuckles for an 18-year-old single mom?"
Dave Semler
Pennsylvania

"Liberals gleefully attack Sarah Palin because her teenage daughter got pregnant, but they proudly defended Bill Clinton for committing adultery in the Oval Office."
Sam Nall
Homosassa, FL

"Bristol Palin should be commended for being brave enough to face the realities of her actions."
Kathy Keiser
Plymouth, IN

"We should just ignore any slime who would attack a child who is gracefully raising a child of her own."
Doug Bell
Montgomery, AL

"The Palin family has been dragged through the mud enough. Leave them alone!"
Tammy Litz
Williamsburg, VA

BLAME GAME
Radical professor Ward Churchill sues the University of Colorado for firing him -- and his attorney is blaming a mob mentality, led by the Factor, for his termination.

"If you did anything to get Ward Churchill fired, please know you have my gratitude. People with such extreme views should not be teaching our children."
Roya Lorge
Clarksville, TN

"Ward Churchill getting fired and blaming you is like running a red light and blaming the red light camera when you get your ticket in the mail."
Margaret Devlin
Highland, CA

"Ward Churchill is the poster child of posers. He is not only an academic fraud, he's a cultural fraud as well."
Jay Bear
Denver, CO

"Ward Churchill is trying to lay the blame on you, but I guess you're too humble to take the credit."
Mike Swadener
South Bend, IN

MISCELLANEOUS
"What would we do without you, Bill? I sleep well every night knowing you're looking out for us."
Jerry Evans
Evansville, IN

"You'll be happy to hear the San Francisco public library stocks 10 copies of 'Bold Fresh' and five of them were checked out."
Lisa Van Winkle
San Francisco, CA

"Love the Barney sticker. I almost fell off my chair laughing when I saw it on the show."
Chris Silva
Toronto, Canada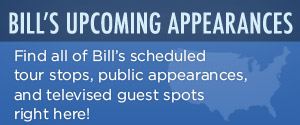 | | |
| --- | --- |
| OCTOBER 31, 2014 | | PM Rating: A+ |
Greg Gutfeld hosts The O'Reilly Factor, Friday 10/31
A judge has ruled in favor of Kaci Hickox, the nurse who treated Ebola patients in Africa and...
Elite universities have routinely banned conservatives from speaking on campus, but now left-wing...