Viewer Mail for Thursday, December 17
By:
Factor Producers
December 17, 2009
PARTY POLITICS
O'Reilly takes Laura Ingraham to task for accusing him of "gushing" over the Obamas at the White House Christmas party.

"You are definitely a patriot for going to Obama's party, but the Obamas are pinheads for not coming on the Factor."
Jim Gulke
South Lake Tahoe, CA

"Just because you reported something positive about Michelle Obama, it doesn't mean you were gushing. Laura finds it impossible to accept that there's anything good to say about the Obamas."
Ed Nussbeutel
Reading, PA

"I'll give Mrs. Obama the benefit of the doubt when she publicly apologizes for her remarks during the campaign that denigrated generations of proud Americans."
Jeff White
Carlsbad, CA

"Laura Ingraham is right. Your comments about Michelle Obama were a slobbering love affair."
Lynne Bleier
Melbourne, FL

"What did you expect? Of course, Michelle Obama was gracious, charming, and friendly. She couldn't act any other way towards you at a Christmas party!"
Shirley Nuno
Palo Alto, CA

"It's about time someone calls Miss Laura out for being so far right. She's too far out there to be good for the conservative cause."
Chuck McCulley
Martinsburg, WV

"Laura Ingraham really seems to be oblivious to the fact that there are good people on both sides of the political aisle. It's important to show some respect, even if you disagree on most issues."
Chris Weaver
Etown, KY

ATHLETE OF THE DECADE?
In the midst of his personal scandal, the Associated Press names Tiger Woods the athlete of the decade. Controversy aside, O'Reilly doesn't even think golf is a sport!

"Tiger Woods should definitely not be the athlete of the decade. Qualities like leadership. integrity and honesty should be factored in."
Sean McCoy
Edmonds, WA

"Like it or not, professional athletes are role models for millions of kids. Recognizing Tiger Woods in the midst of his recent behavior is opprobrious."
Travis White
San Antonio, TX

"The way you play golf, it may be a game. The way Tiger plays golf, it is a sport."
Dean Key
Mishawaka, IN

"I'm not sure either if Tiger Woods is a great athlete. I'll reserve judgment until he does something athletic. Can golf really be considered a sport if you don't even move your feet while playing?"
Lawrence Richards
Lee's Summit, MO

"Of course, golf is a sport! It takes talent and practice. It may not be as labor intensive as football or hockey, but it's still a sport."
Jeff Cramer
Hampton, NH

"I'm not a fan of Tiger Woods, but when one can hit a golf ball 200 yards and leave it within a couple of feet of the pin, they are definitely playing a sport, not a game."
Dick Choat
Birmingham, AL

SEXTING PSA
MTV puts out a new ad campaign to try to deter teenagers from emailing and texting nude photos of themselves.

"High school kids know that sending nude photos of themselves is wrong, but they don't care. They think everyone does it, so it's no big deal."
Carolyn Mathews
Dillon, MT

"Teenagers, unfortunately, don't think five minutes past their actions. Combine that with apathetic parents, and I'm not surprised teens do so much sexting."
Lynne Dunne
Staten Island, NY

"When I was in school, the worst thing we could do was chew gum in class. What has this world come to?"
Harriet Ehrenreich
Monroe Township, NJ

"MTV should be applauded for taking a proactive stand against texting."
Douglas Furlich
Lawton, IA

"The best way to prevent these things from happening is to be intimately involved in your child's life. Young people today have entirely too much freedom."
MaryLeigh Rayburn
Plant City, FL

"My parents taught me right from wrong. If I chose wrong, there would be consequences. Kids today just don't respect right and wrong."
Chip Blair
Ashland, PA

"Just because my generation grew up with technology at our fingertips doesn't give teens an excuse to send racy text and photos. Everyone still knows right from wrong."
Jordan Lopez
Normal, IL

"Perhaps the parents of young people should use the line my mother did: If you wouldn't want to see it on the front page of the newspaper, don't write it or photograph it."
Jean Hayes
Sewickley, PA

HE'S A POET!
On the CBS "Early Show," Al Gore reads a very long poem he wrote about global warming.

"I too had to wipe tears form my eyes after listening to Al Gore's poetry reading. It was from laughing so hard."
Robert Purdy
Upper St. Clair, PA

"Could you please tell me what happened in the last ten minutes of last night's Factor? The last thing I remember was Al Gore reading a poem. Then I fell asleep."
Kristin Williams
Playa del Rey, CA

"I am amazed that Al Gore could actually read his poetry without laughing. Can you imagine what America would be like if he'd won the election?"
Mark Miller
Byron, GA

"A mental evaluation is definitely required immediately."
Elaine Hoffman
West Springfield, MA

"You really should have given a viewer warning before Al Gore's poem. I almost threw up."
Mike Cayton
Swansboro, NC

"If you replace waterboarding at Gitmo with Al Gore's poetry reading, we will get far more information out of the terrorists."
Chris Kelly
Culver City, CA

"Shame on you, Bill. It's the Christmas season and Al Gore's poem almost made me cry."
Fred Aleman
West Newton, MA

"I must say that listening to Al Gore go on and on with his poetry was the longest 30 seconds of my entire life."
Kevin Sanders
Surf City, NC

"I believe that Al Gore needs to quit contributing to greenhouse gases by reading his poetry aloud."
Bonnie Stokes
Nashville, TN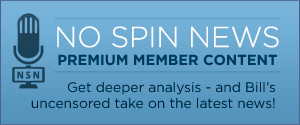 | | |
| --- | --- |
| OCTOBER 30, 2014 | | PM Rating: A |
It seems the race card is being played by the Democrats in order to stimulate the African American...
A recent article on The Atlantic website says a senior Obama official called Israeli Prime M...
Should the American nurse who is defying the Ebola quarantine in Maine be taken into custody?...
We'll talk about two major races tonight: The North Carolina senate race is really vicious and...
According to a new book by former CBS News investigative reporter Sharyl Atkkisson, CBS News...
According to social media, a popular Halloween costume among some this year is Ray Rice and...