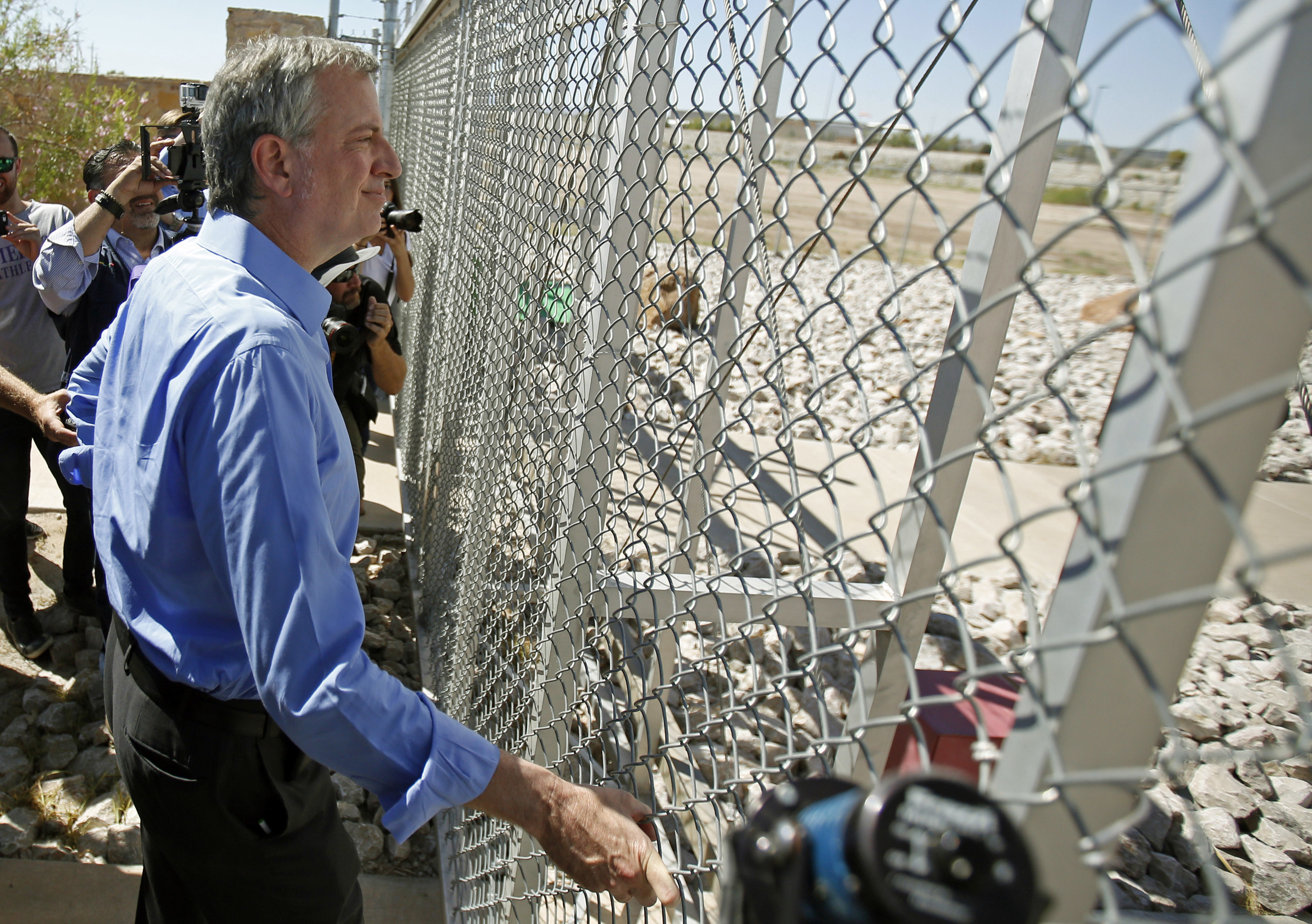 Here is the Daily Briefing for Thursday, July 12, where we round up the day's biggest headlines for your perusal. Take a look.


Bill de Blasio in Trouble with Border Patrol

New York City Mayor Bill de Blasio was accused of violating federal immigration law for both the U.S. and Mexico for illegally crossing the border on foot near El Paso, Texas, in June. U.S. Customs and Border Protection levied the allegations against the Democrat in a letter obtained by the Associated Press. De Blasio's office continues to deny the allegations, according to Fox News. De Blasio was visiting the border on June 21 to oppose the Trump administration's zero-tolerance policy and the policy of family separations. De Blasio was originally denied entrance into an immigrant detention facility and ended up crossing the border into Mexico and then crossing back into the U.S., Fox News reported. The mayor was accompanied by his NYPD security detail at the time.

Stormy Daniels Arrested at Ohio Strip Club

Adult film star Stormy Daniels was arrested on Wednesday while performing at a strip club in Ohio, according to her lawyer, who called the arrest a "politically motivated" setup. Daniels was arrested while performing at the Sirens Gentlemen's Club in Columbus, Ohio, after she allegedly allowed "a customer to touch her while on stage," her attorney, Michael Avenatti, said in a tweet Thursday. "Just rcvd word that my client @StormyDaniels was arrested in Columbus Ohio [while] performing the same act she has performed across the nation at nearly a hundred strip clubs," Avenatti tweeted early Thursday. "This was a setup & politically motivated. It reeks of desperation. We will fight all bogus charges. #Basta."

Border Patrol Agents Attacked with Rocks While Rescuing Pregnant Woman

Border Patrol agents who were rescuing a distressed pregnant woman in Texas on Saturday were attacked by rocks thrown by an illegal immigrant, officials said. Agents with the Weslaco Station saw a group of people who had previously been unable to enter the U.S. climbing a tree to enter the country through Custom and Border Protection's (CBP) Port of Entry in Progreso, Mexico, the agency said in a Wednesday news release. The agents reportedly approached the area, where they saw two people on top of a bridge and a 25-year-old female Mexican national at the bottom of the tree. The woman claimed she was pregnant and that her back hurt. The Rio Grande Valley border agents began to assist the woman, and, according to CBP, one of the people on top of the bridge started throwing rocks at them. The responding agents relocated the woman to a safe location and she was transported to a hospital. Those who allegedly threw the rocks "fled back to Mexico," the press release stated.

Admitted Killers, Gang Members Resettled During Obama-Era Child Migrant Surge

Admitted killers, human smugglers, and gang members were among thousands of unaccompanied minors that the Obama administration processed during a surge of migrant children across the southwest border in 2014. Judicial Watch, a Washington, D.C.-based investigative organization, published nearly 1,000 Significant Incident Reports (SIR) on Monday, after a three-year delay in an open record request to the Department of Health and Human Services. The SIR summaries cover a six-month period from May to November 2014. They show widespread criminality in the UAC resettlement program, with migrant children admitting to serious crimes and also to being victims of sexual abuse at the hands of U.S. government contractors and employees.

Trump Tells NATO Allies to Spend 4% of GDP on Defense

President Trump left the opening day of the NATO summit in Brussels in disarray on Wednesday after making a surprise demand for members to raise their defense spending to 4% of GDP and clashing with German Chancellor Angela Merkel over a proposed pipeline deal with Russia. Trump left the assembled presidents and prime ministers floundering, unsure whether he was serious about the 4% target, double the existing NATO target of 2%, which many do not meet, or whether it was just a ploy. After making the announcement, Trump walked out. The White House press secretary, Sarah Sanders, confirmed the 4% figure. "During the president's remarks today at the NATO summit he suggested that countries not only meet their commitment of 2% of their GDP on defense spending but that they increase it to 4%," she said.

Update: Lisa Page's Lawyer Says She's Willing to Testify 'Later This Month'

Lisa Page, the former FBI lawyer whose anti-Trump text messages raised suspicions of bias in the agency, claimed through her lawyer Wednesday that there is "no basis for claims" that she is hiding information from Congress and is still willing to testify, less than a day after she refused to testify in a House hearing. Page, the ex-FBI lawyer whose extramarital affair with fellow FBI employee Peter Strzok was examined in a Justice Department watchdog report, was subpoenaed by the House Judiciary Committee but said Tuesday night she would not testify. But Page's attorney, Amy Jeffress, said Page is still willing to talk later this month and said she didn't appear Wednesday because the committee had not provided enough detail on the scope of lawmakers' questions, and the FBI had not provided documents for her to review ahead of the testimony.

Sarah Palin Slams Sacha Baron Cohen for Duping Her in 'Truly Sick' Prank

Sarah Palin slammed Sacha Baron Cohen and Showtime Tuesday on Facebook for their new prank series, claiming the comedian duped her and her daughter with a humiliating interview by posing as a disabled veteran. The former vice presidential candidate unloaded on Baron Cohen, saying she was contacted via a speakers bureau to participate in a "legit Showtime historical documentary." But in reality, she says the interview was for a segment on Baron Cohen's upcoming Who Is America? which debuts Sunday, July 15 at midnight on Showtime. Palin says she and one of her daughters were met by a man she assumes was Baron Cohen, who was heavily disguised as a bogus U.S. military veteran and in a wheelchair. "I sat through a long 'interview' full of Hollywoodism's [sic] disrespect and sarcasm — but finally had enough and literally, physically removed my mic and walked out," Palin wrote.