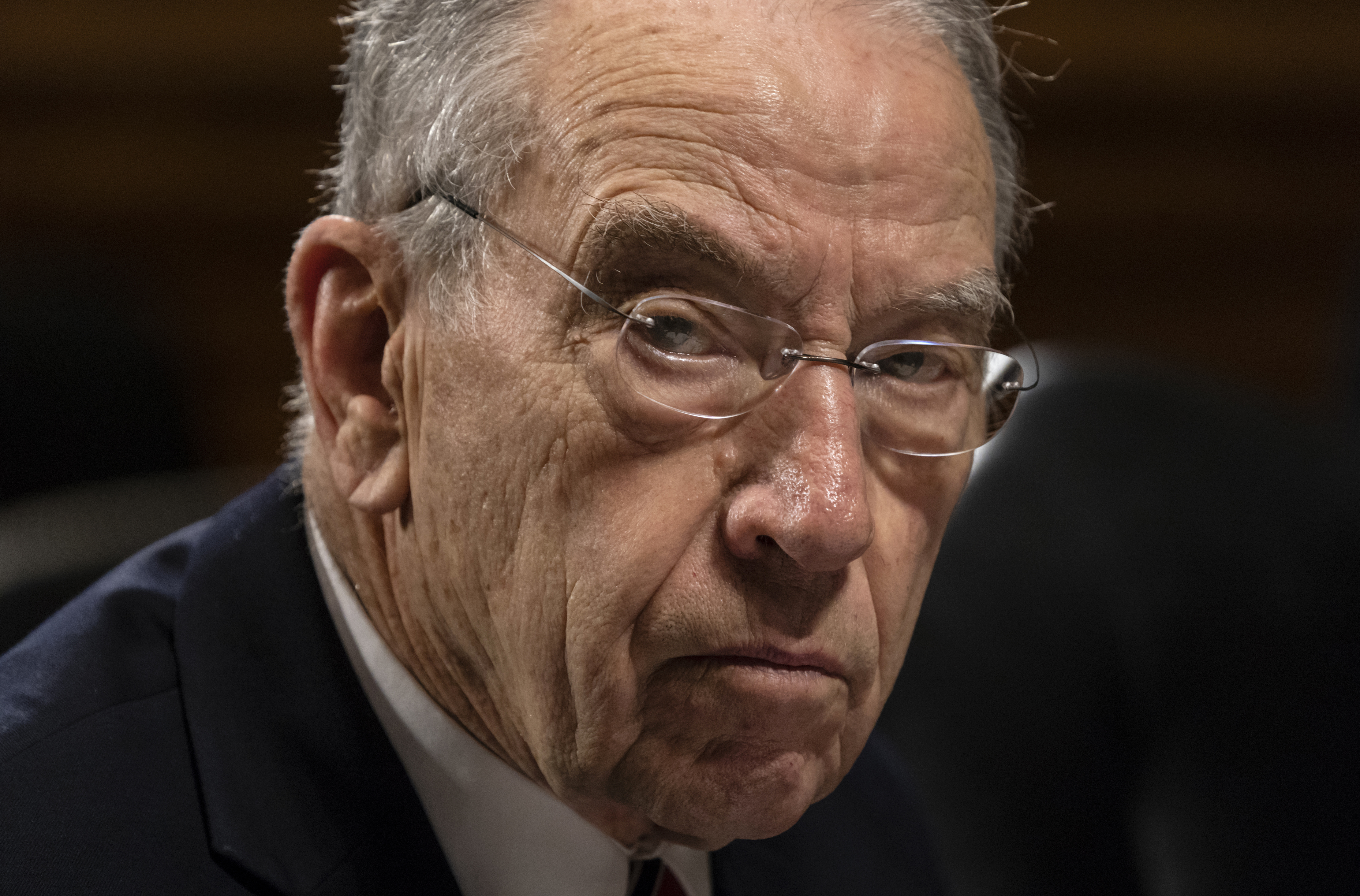 Here is the Daily Briefing for Wednesday, May 16, where we round up the day's biggest headlines for your perusal. Take a look.




GOP-Led Senate Committee Releases 2,556-Page Report on Trump Tower Meeting

The Senate Judiciary Committee's Republican chairman on Wednesday released thousands of pages of documents about a June 2016 Trump Tower meeting between high-level Trump campaign staff and Russians. In his testimony to the committee, the president's son who attended the meeting, Donald Trump Jr., said he couldn't remember whether or not he had discussed the Russia investigation with his father. Sen. Chuck Grassley, R-Iowa, who leads the Senate committee, released a heaving 2,556-page report comprising interview transcripts, evidence, and notes from nine witnesses at the center of the meeting. The meeting, which was first reported after the 2016 presidential election, was scheduled under the pretext that a Russian lawyer, Natalia Veselnitskaya, would share incriminating information about Hillary Clinton with the Trump campaign.

Sarah Sanders: White House Leakers Should Be Fired

White House press secretary Sarah Sanders said Wednesday that leakers in the White House should be fired. "I can't answer why people do it because I don't engage in [leaking]," Sanders told Fox News Wednesday morning. "I find it to be some of the most disgusting behavior that you could ever participate in, and one of the most disloyal things that you could do as an entrusted member of the president's team." Sanders and others in the White House have indicated there will be no public apology for that comment, and instead, have focused on the leak instead of the substance of the remark. Sanders told Fox she doesn't want to "validate" the comment and again argued that the press needs to spend more time on the progress President Trump is making on the economy and foreign affairs.

North Korea Has No Interest in a Summit With 'One-Sided' Demands from the U.S.

North Korea will not agree to "unilateral nuclear abandonment," a regime official declared in a statement Tuesday night, insulting national security adviser John Bolton and raising doubts about whether President Trump's summit with dictator Kim Jong Un will take place. "It is a ridiculous comedy to see that the Trump administration, claiming to take a different road from the previous administrations, still clings to the outdated policy on the DPRK — a policy pursued by previous administrations at the same time when the DPRK was at the stage of nuclear development," senior diplomat Kim Kye Gwan said in a Wednesday statement released by state-run media. Kim Kye Gwan went on to say, "[I]f the U.S. is trying to drive us into a corner to force our unilateral nuclear abandonment, we will no longer be interested in such dialogue and cannot but reconsider our proceeding to the DPRK-U.S. summit," Kim added.

Judge Denies Manafort's Motion to Dismiss Charges Against Him

U.S. District Judge Amy Berman Jackson has denied former Trump campaign chairman Paul Manafort's motion to dismiss criminal charges against him brought by special counsel Robert Mueller in Washington. "[T]he indictment falls squarely within that portion of the authority granted to the Special Counsel that Manafort finds unobjectionable: the order to investigate 'any links and/or coordination between the Russian government and individuals associated with the campaign,'" Jackson wrote Tuesday. She added that it is "logical and appropriate" for investigators looking at coordination between Russia and the Trump campaign to probe him. Manafort was the first person indicted by Mueller, in October, on charges of engaging in a conspiracy against the United States, engaging in a conspiracy to launder money, failing to file reports of foreign bank and financial accounts, acting as an unregistered agent of a foreign principal, making false and misleading statements in documents filed and submitted under the Foreign Agents Registration Act, and making false statements to FBI investigators. In addition, Manafort is facing charges brought against him by Mueller that include bank and tax fraud in Alexandria, Va. Judge T. S. Ellis III of the Eastern District of Virginia set that trial to start on July 10, though he is also weighing Manafort's motion to dismiss.

President Trump's Polls Improve Despite 90% Negative News Coverage

The liberal media's war against President Trump was as fierce as ever during the first four months of 2018, but the onslaught appears to be helping Trump. In the face of massive and hostile coverage from ABC, CBS and NBC, Trump's overall job approval rating actually rose, from 37 percent in mid-December to roughly 43 percent at the end of April. The Media Research Center studied all broadcast evening news coverage of the President from January 1 through April 30, and found 90 percent of the evaluative comments about Trump were negative, precisely the same hostile tone that was documented in 2017.

California's Sanctuary Critics are Meeting with Trump

Almost two months ago, a small Orange County city launched what's become the most talked-about effort to thwart California's new law that limits local law enforcement cooperation with federal immigration efforts. Today, that city's mayor and a handful of other California Republicans will talk strategy on opposing the state law with President Trump. The meeting at the White House comes after the Trump administration sued California in March over a trio of immigration laws, none more notable than the state's "sanctuary" effort. Led by House Majority Leader Kevin McCarthy, the California delegation includes 16 local elected officials including the sheriffs of Fresno and Stanislaus counties. The first city to act, Los Alamitos, represented by Mayor Troy Edgar and Mayor Pro Tem Warren Kusumoto will be among the local and state leaders in the group.

Trump's Nominee for CIA Director Wins Key Democratic Support

Gina Haspel, President Trump's nominee to run the CIA, is on track to be confirmed by the U.S. Senate after key Democrats announced their support on Tuesday. Her nomination has been deeply controversial because she once ran a secret prison in Thailand where detainees were waterboarded after the Sept. 11, 2001, terrorist attacks. That chapter in her 33-year career remains shrouded in mystery because officials have refused to declassify more information about it. But Sen. Mark Warner (D-Va.), the vice chairman of the Senate Intelligence Committee, Sen. Heidi Heitkamp (D-N.D.) and Sen. Bill Nelson (D-Fla.) said Tuesday that they would vote for her. However, two Republicans, Sens. Rand Paul of Kentucky and John McCain of Arizona, have said they oppose Haspel's confirmation. Republicans only have a 51-49 majority in the Senate. With Paul and McCain opposing Haspel, Democratic support became crucial to her confirmation. It's unclear when the Senate will hold the vote.

DOJ Responds to Request for Info on Comey's Law Professor Friend

The Justice Department said Tuesday it responded to demands from Capitol Hill Republicans to turn over documents about former FBI Director James Comey's law professor friend who released contents of Comey's memos to the media last year. DOJ officials told Fox News the response was transmitted to Capitol Hill, but it was not immediately clear what the response was. The House Oversight Committee told Fox News it did not receive any documents from the DOJ, but did receive a verbal response and expects to get the documents by Thursday. Earlier this month, House Judiciary Committee Chairman Bob Goodlatte, R-Va., and House Oversight and Government Reform Committee Chairman Trey Gowdy, R-S.C., made the request for records on Daniel Richman in a letter to Attorney General Jeff Sessions and Deputy Attorney General Rod Rosenstein. Richman, who works at Columbia University, previously worked as a "special government employee" for Comey's FBI on an unpaid basis. The lawmakers said they wanted more information on that arrangement.

ABC Set to Dial Back Political Humor from Pro-Trump 'Roseanne' Next Season

ABC's "Roseanne" is one of the few popular television programs to feature a pro-Trump character, but conservatives shouldn't get used to seeing similar ideology on the sitcom for much longer. ABC entertainment president Channing Dungey put the kibosh on "Roseanne" remaining political in the second season apparently ditching the strategy the network touted only two months ago. Dungey said that the show will lean away from politics next season during a conference call with reporters as part of the network's upfront presentation. Upon learning the news, conservative media icon Matt Drudge tweeted, "Corporate cannibals stripping Roseanne of her fun." The return of "Roseanne" featured a debut episode in which characters argued about the 2016 election, with the show's namesake representing the conservative viewpoint. As the season concluded, politics appeared less frequently on the sitcom. "I think that they're going to stay on the path that they were on toward the end of last season, which is away from politics and toward family," Dungey said during the network's upfront presentation after the call, according to TheWrap. The site added that Dungey said ABC's goal is to be "as diverse and as inclusive as possible … across all metrics."

Trump Administration Preparing to Hold Migrant Children on Military Bases

The Trump administration is making preparations to warehouse migrant children on military bases, according to Defense Department communications. According to an email notification sent to Pentagon staffers, the Department of Health and Human Services will make site visits at four military installations in Texas and Arkansas during the next two weeks to evaluate their suitability for child shelters. The bases would be used to hold minors under age 18 who arrive at the border without an adult relative. HHS is the government agency responsible for providing minors with foster care until another adult relative can assume custody. The email characterized the site visits as a preliminary assessment. "No decisions have been made at this time," it states.