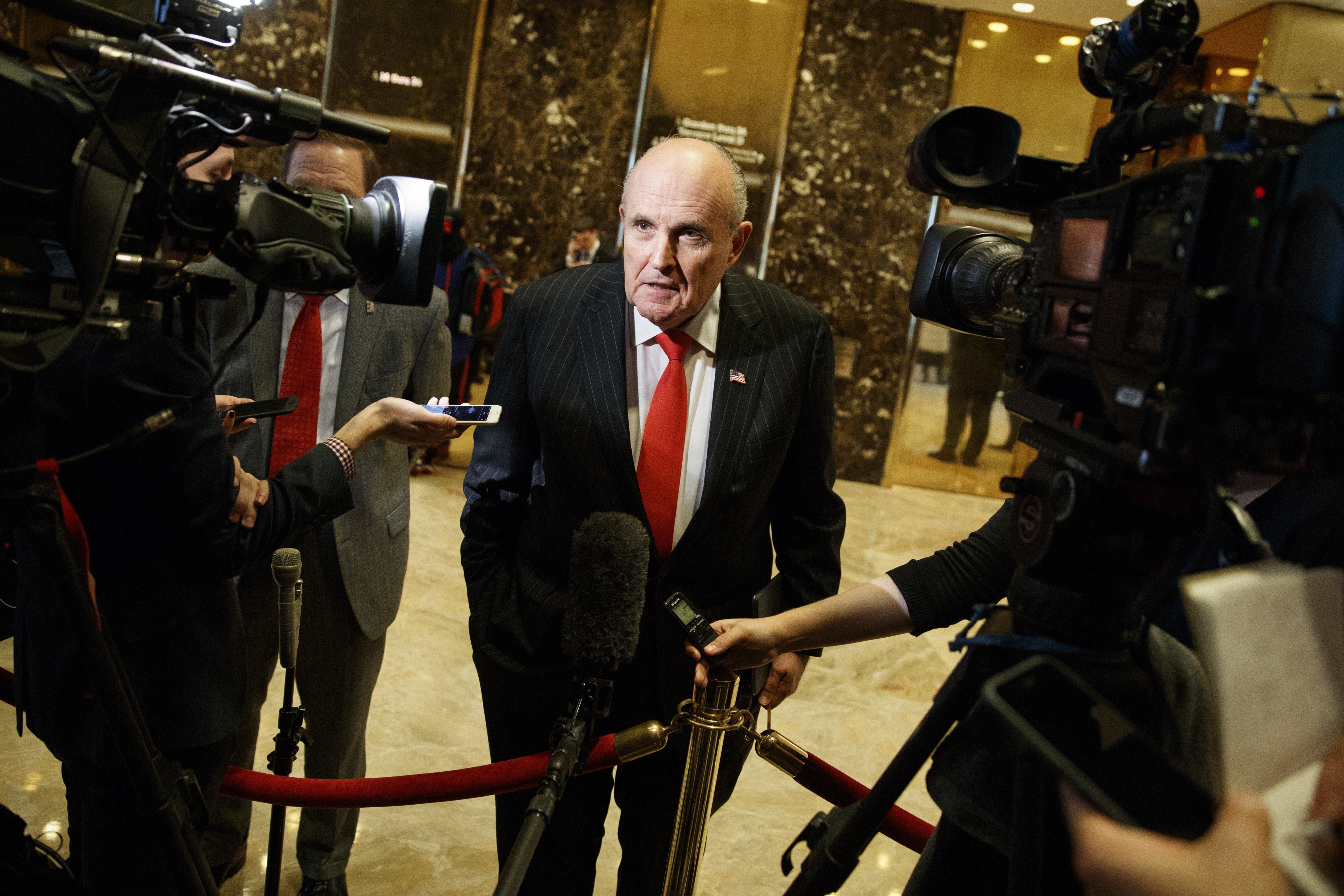 Here is the Daily Briefing for Thursday, May 3, where we round up the day's biggest headlines for your perusal. Take a look.



Giuliani Says Trump Paid $130G To Cohen for 'Expenses' Over Several Months

In a wide-ranging interview on Fox News' "Hannity" on Wednesday night, Rudy Giuliani told host Sean Hannity that President Donald Trump reimbursed his personal attorney, Michael Cohen, $130,000 that Cohen paid to adult film actress Stormy Daniels days before the 2016 election in exchange for her silence about a sexual encounter with Trump in 2006. "That money was not campaign money," said Giuliani, a recent addition to Trump's legal team who is also a former mayor of New York City and Republican presidential candidate. "It's not campaign money. No campaign finance violation." Giuliani said Trump repaid Cohen "over several months" by putting him on a "retainer of $35,000 when he was doing no work for the president."

More Than 50 in Migrant 'Caravan' Processed for Asylum in the United States

More than 50 members of the so-called migrant caravan are now being evaluated for asylum by U.S. Customs and Border Protection in San Ysidro, according to media reports from Tijuana. NBC News said Pueblo Sin Fronteras, the aid group organizing the annual event, is reporting that 53 migrants had been processed as of Wednesday. Reuters put the number at over 60. However, there was no confirmation from federal officials. The caravan has been criticized by President Trump and on Wednesday Atty. Gen. Jeff Sessions said that to prevent authorities from being "overwhelmed" he was sending 35 additional assistant U.S. attorneys and 18 immigration judges to the border. "We are sending a message worldwide: Don't come illegally. Make your claim to enter America in the lawful way and wait your turn," Sessions said.

Call Between Michael Cohen and White House Intercepted by Federal Wiretap

Phone lines belonging to Michael Cohen, President Trump's longtime personal lawyer, were tapped by federal investigators, and at least one call between the White House and Cohen was caught up in the investigation, according to a report. Two sources told NBC News the wiretap was in place before the FBI raided Cohen's office, home, and hotel room. During the raid, which occurred in early April, agents seized documents related to a number of topics, including a $130,000 payment Cohen facilitated to former adult film star Stormy Daniels just before the election.

Reporter Screams at Trump About Stormy Daniels at National Day of Prayer Ceremony

President Trump welcomed a diverse range of religious leaders to the White House for the National Day of Prayer Thursday. The event was uplifting – but the behavior of a reporter at the end of the ceremony disgusted the guests. Trump spoke about religious persecution and the importance of faith in his remarks. Trump welcomed a one-time inmate turned Christian convert and the man who arrested him, onstage to share a story of faith and forgiveness. The president, surrounded by religious leaders of all faith backgrounds, then signed an official White House Faith Initiative. As the president was leaving the event, an unidentified reporter screamed: "What about Story Daniels?" The question, yelled at the religious event, disgusted some in the audience. Daily Caller White House correspondent Saagar Enjeti says the question prompted an angry "shame on you" from one of the attendees, directed at the press pen.

The Escalating Clash with the Justice Department

A standoff between Justice Department officials and GOP lawmakers escalated Wednesday as President Donald Trump waded into a controversy over demands to release a highly sensitive document outlining who and what is being investigated by special counsel Robert Mueller III. The Justice Department has refused to turn over the document, known as a "scope memo," citing its own independence and longtime precedent that it doesn't disclose the details of ongoing investigations. "A Rigged System - They don't want to turn over Documents to Congress. What are they afraid of? Why so much redacting? Why such unequal "justice?" At some point I will have no choice but to use the powers granted to the Presidency and get involved!" the president tweeted Wednesday morning. At the same time, a bloc of Trump-allied House Republicans have been discussing a parliamentary maneuver to initiate impeachment proceedings against Deputy Attorney General Rod Rosenstein, who wrote the scope memo and oversees the Mueller investigation into Russian interference in the 2016 election and related matters.

NBC San Francisco: Trump Is 'Far More Liked Than Nancy Pelosi'

Scott McGrew, an anchor, and reporter for NBC's San Francisco affiliate, on Wednesday, said President Donald Trump is "far more liked" by Americans than House Minority Leader Nancy Pelosi (D., Calif.). McGrew reported on Pelosi's announcement Tuesday about her plans to run for House Speaker if the Democrats regain the majority in the House of Representatives after the midterm elections this fall. "This may not be good news for Democrats. Republicans use Pelosi as a cudgel in their ads to convince people not to vote for Democrats, and they're not wrong [to do so]," McGrew said. "We might like Nancy Pelosi in the Bay Area, but America doesn't." He then cited a NBC News/Wall Street Journal poll to list organizations and people who are more popular than Pelosi. "Things that are more popular than Nancy Pelosi … include the NRA, current Speaker Paul Ryan [R., Wis.], even Donald Trump. Among all Americans, Donald Trump is far more liked than Nancy Pelosi," McGrew said.

Daniels Lawyer Offers to Send Gift Basket to Fox News After Giuliani Interview

Michael Avenatti, the attorney for adult-film star Stormy Daniels, on Thursday, suggested that he may send a gift basket to the hosts of "Fox & Friends" after a pair of recent interviews with President Trump and one of his lawyers, Rudy Giuliani. "Whatever happens @foxandfriends, please do not stop helping our case week in and week out by having Mr. Trump and Mr. Giuliani appear and make damaging stmts," Michael Avenatti tweeted. "You are truly THE BEST; where can we send the gift basket?" Both Trump and Giuliani have appeared on Fox News in recent days for interviews that Avenatti has claimed bolster Daniels's case in a lawsuit seeking to void a nondisclosure agreement with Trump and his personal attorney, Michael Cohen.

Camille Cosby, Wife of Bill Cosby, Asks for a Criminal Investigation of Montgomery County DA and 'His Cohorts'

One week after Bill Cosby was found guilty on all counts in his sexual assault retrial, his wife, Camille, is calling for a criminal investigation into Montgomery County District Attorney Kevin Steele, and his cohorts. She claims that "In the case of Bill Cosby, unproven accusations evolved into lynch mobs, who publicly and privately coerced cancellations of Bill Cosby's scheduled performances; syndications of "The Cosby Show"; rescissions of honorary degrees and a vindictive attempt to close an exhibition of our collection of African American art in the Smithsonian Museum of African Art." In a statement released this morning, Mrs. Cosby claims that the media and his accusers labeled her husband as guilty and questions whether the media are now the peoples' judges and juries.