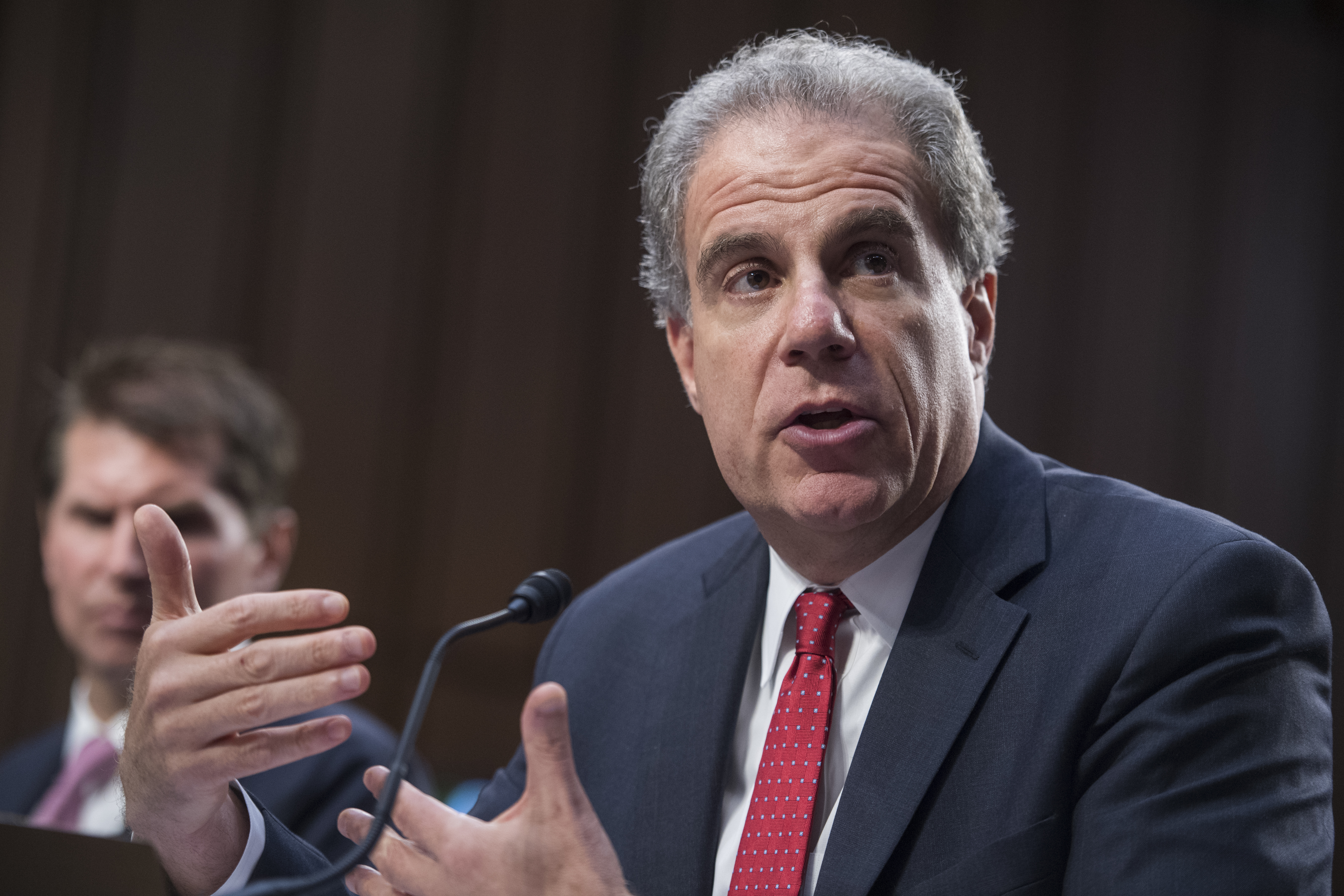 Here is the Daily Briefing for Monday, June 18, where we round up the day's biggest headlines for your perusal. Take a look.


IG Horowitz, FBI Director Wray to Testify Before Senate Committee Today

FBI Director Christopher Wray and Justice Department Inspector General Michael Horowitz will testify on Monday before the Senate Judiciary Committee on Horowitz's bombshell report on the FBI's investigation of Hillary Clinton's personal email server. Horowitz's report, released Thursday, singled out then-FBI Director James Comey for harsh criticism, but most notably, Horowitz found that anti-Trump text messages between FBI agent Peter Strzok and FBI attorney Lisa Page "potentially indicated or created the appearance that investigative decisions were impacted by bias or improper considerations."

Former CIA Director Likens WH Policy to Nazi Germany

On Saturday, Former CIA Director Michael Hayden posted a photo to Twitter of the Auschwitz-Birkenau concentration camp used by Nazi Germany during World War II which he was comparing to the separation of children at the U.S.-Mexico border. Hayden was interviewed on CNN's "New Day" on Monday where he said that he sees a "commonality" between Nazi Germany's separation of children at concentration camps and the Trump administration policy that is forcing children to be separated from their parents at the Southern border. "I know we're not Nazi Germany, alright. But there is a commonality there and a fear on my part, that we have standards we have to live up to," Hayden told CNN.

Strzok Open to Testifying Before Congress

FBI Agent Peter Strzok told the Washington Post that he's open to testifying before Congress about what was found in the inspector general's report. Strzok "wants the chance to clear his name and tell his story," attorney Aitan Goelman said in an interview with the Post. "He thinks that his position, character, and actions have all been misrepresented and caricatured, and he wants an opportunity to remedy that," Goelman added. This is not the first time that Strzok has been asked to testify. It was requested that he appear before the House Judiciary Committee for "quite some time now," Rep. Bob Goodlatte, R-Va., the chairman of the committee, told Fox News' "Fox & Friends" Sunday. "If an agreement is not reached in the next day or so to produce him voluntarily, we will issue [a] subpoena early this week," Goodlatte said.

Nunes Says Impeachment Is On The Table for Rod Rosenstein

House Intelligence Committee Chairman Devin Nunes said Sunday that "there will be hell to pay" including impeachment for top Justice Department officials if the agency fails this week to give Congress documents about an FBI informant used to spy on the Trump campaign. "We can't force the resignation, but we can hold in contempt, we can pass resolutions, we can impeach. I think we're getting close to there," Nunes said of Deputy Attorney General Rod Rosenstein in an interview with Maria Bartiromo on Fox News' "Sunday Morning Futures."

Trump Refers to Peter Strzok as a "Sick Loser"

In a Sunday night tweet Trump had a couple of choice words to say about FBI Agent Peter Strzok, "Why was the FBI's sick loser, Peter Strzok, working on the totally discredited Mueller team of 13 Angry & Conflicted Democrats, when Strzok was giving Crooked Hillary a free pass yet telling his lover, lawyer Lisa Page, that "we'll stop" Trump from becoming President? Witch Hunt!" More incriminating text messages between Strzok, Lisa Page, were released in the inspector general's report last week.

Merkel Faces Political Crisis for Open Door Policy

German Chancellor Angela Merkel is in the fight of her political life and could lose her job within days. The crisis stems from a revolt over Merkel's "open-door" migration policy, which she declared in 2015 to aid Syrian refugees. Instead, it launched a surge of almost 2 million migrants from Africa, Asia, and the Middle East into Germany and its European Union neighbors setting off a cascade of housing, employment, crime and other problems. "We are in a serious situation because the question of the migration crisis evolved into a power question," German lawmaker Kai Whittaker told the BBC on Saturday. The looming political showdown pits Merkel against Interior Minister Horst Seehofer, the leader of the conservative Christian Social Union (CSU) party.

NY Candidate Wants "Game of Thrones" Punishments

A New York State assembly hopeful from Brooklyn wants to take a page from HBO's "Game of Thrones" and force disgraced lawmakers convicted of corruption to be paraded in handcuffs through their home districts. Convicted statewide politicians would be subject to the same walk of shame near the Capitol in Albany, according to Steve Saperstein, who is proposing the move as he attempts to fill the seat of ex-Assemblywoman Pamela Harris. The Republican contender's proposal also calls for ex-politician cons to do 500 hours of community service in addition to whatever punishment is handed down by a judge or jury.