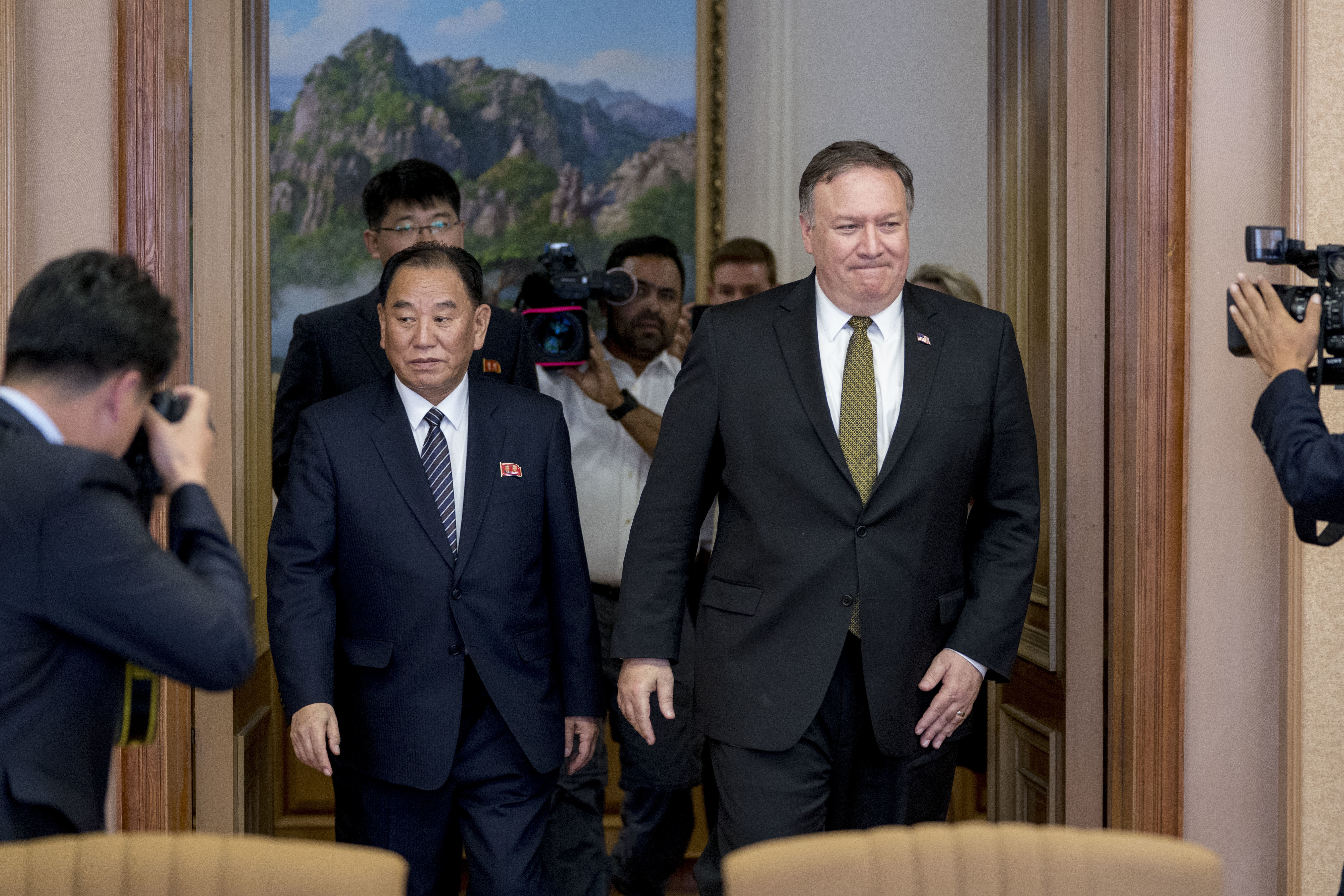 Here is the Daily Briefing for Sunday, July 8, where we round up the day's biggest headlines for your perusal. Take a look.


Obama DHS Sec Says Abolishing Ice 'Would Compromise Public Safety'

Former Homeland Security Secretary Jeh Johnson pushed back against Democrats calling for the Immigration and Customs Enforcement agency to be abolished in a Friday op-ed published in the Washington Post. The op-ed, titled, "Abolishing ICE is not a serious policy proposal," likened demands to abolish ICE to a hypothetical demand from those who wanted to end the Vietnam war by abolishing "the entire Defense Department." Johnson went on to say, "Obviously, that would have completely compromised national security," Johnson wrote, adding that ending the agency "would compromise public safety" as well.

Pompeo Comments on Talks with North Korea

Secretary of State Mike Pompeo wrapped up his two-day visit to North Korea Saturday, insisting that the two sides made "a great deal of progress." In the highest-level talks since the June 12 summit in Singapore, Pompeo met with Kim Yong Chol, the North Korean leader's right-hand man, for negotiations intended to clarify plans for the implementation of the agreement signed in Singapore. Pompeo, who insists that the talks went well while noting that "there's still more work to be done," departed Pyongyang Saturday with only a commitment from the North Koreans to continue talks. Beyond this offer, it appears the secretary left North Korea without any real concrete achievements. "We will produce an outcome, results," Kim Yong Chol told Pompeo as he boarded the aircraft to leave, according to Bloomberg.

North Korea Has Different Thoughts on Meeting with Pompeo

High-level talks between the United States and North Korea appeared to hit a snag on Saturday as Pyongyang said a visit by U.S. Secretary of State Mike Pompeo had been "regrettable" and accused Washington of making "gangster-like" demands to pressure the country into abandoning its nuclear weapons. North Korea's Foreign Ministry said in a statement that the U.S. betrayed the spirit of last month's summit between President Donald Trump and Kim by making "unilateral and gangster-like" demands on "CVID," or the complete, verifiable and irreversible denuclearization of North Korea. North Korea's Foreign Ministry went on to say the outcome of the follow-up talks was "very concerning" because it has led to a "dangerous phase that might rattle our willingness for denuclearization that had been firm."



Elon Musk Has Plans to Rescue Thai Soccer Team

Tesla and SpaceX CEO Elon Musk said on Saturday that he is building "a tiny, kid-size submarine" to rescue the 12 Thai boys and their soccer coach infamously trapped within the submerged Tham Luang cave. According to the Bangkok Post, a nine-person engineering team assembled by Musk has already begun to arrive in the area. Musk tweeted on Saturday that while he had several alternative plans, his team of experts had agreed that the best idea was building a small submarine—really more of an air-filled pod—"using the liquid oxygen transfer tube of [a SpaceX] Falcon rocket as hull." He added that it would be designed to be manageable with the efforts of two divers.

Navy SEAL Tears into Chelsea Handler After She Says Donald Trump is the 'Domestic Enemy' of America

In response to comedian Chelsea Handler calling President Donald Trump a "domestic enemy" leading America, Eli Crane, a Navy SEAL veteran, pointed to how Trump's actions prove that's not true. Handler tweeted, "Putin is giving trump talking points and actions to take to help undermine the very country he is from. We have a domestic enemy running our country pissing on about allies who shows fealty only to Putin. This is not America. This is Russia." Crane, who was deployed to Iraq three times, said that Handler saying that the president is a "domestic enemy" is foolish, "your comments are not hurting the president or going to achieve your ultimate goal of getting him impeached. It just reminds the rest of us in the 'silent majority' how far removed and triggered you and your buddies on the left really are."

Judge Does Not Give Trump Admin More Time to Reunite All Separated Families

A federal judge on Friday appeared to reject the Trump administration's request to extend the deadline to reunite families separated at the border under the "zero tolerance" policy. U.S. District Judge Dana Sabraw said that the department must comply with the July 10 deadline to reunite children under 5 years old with their parents, and July 26 for other children, "unless there is an articulable reason." The Justice Department had requested an extension on the court-ordered deadlines, saying that it needed more time to match 101 children under 5 with their parents using DNA testing.

Anti-Violence Protesters Shut Down Chicago Highway

The showdown between police and the organizers of a march against gun violence culminated Saturday on Chicago's Dan Ryan Expressway. For weeks, the Rev. Michael Pfleger said his intention was to shut down the busy South Side expressway for a demonstration designed to focus a spotlight on crime, joblessness, and poverty plaguing city neighborhoods. Chicago police urged him to use a neighborhood street instead of the interstate. Illinois State Police threatened arrests. The Saturday morning march kicked off with a compromise: demonstrators in half the northbound lanes, traffic in the others, separated by a barrier of highway trucks, emergency vehicles, and uniformed officers. After about an hour, with protesters pressing toward the police line and traffic squeezing by in single file, officers agreed to close off the remainder of the lanes.