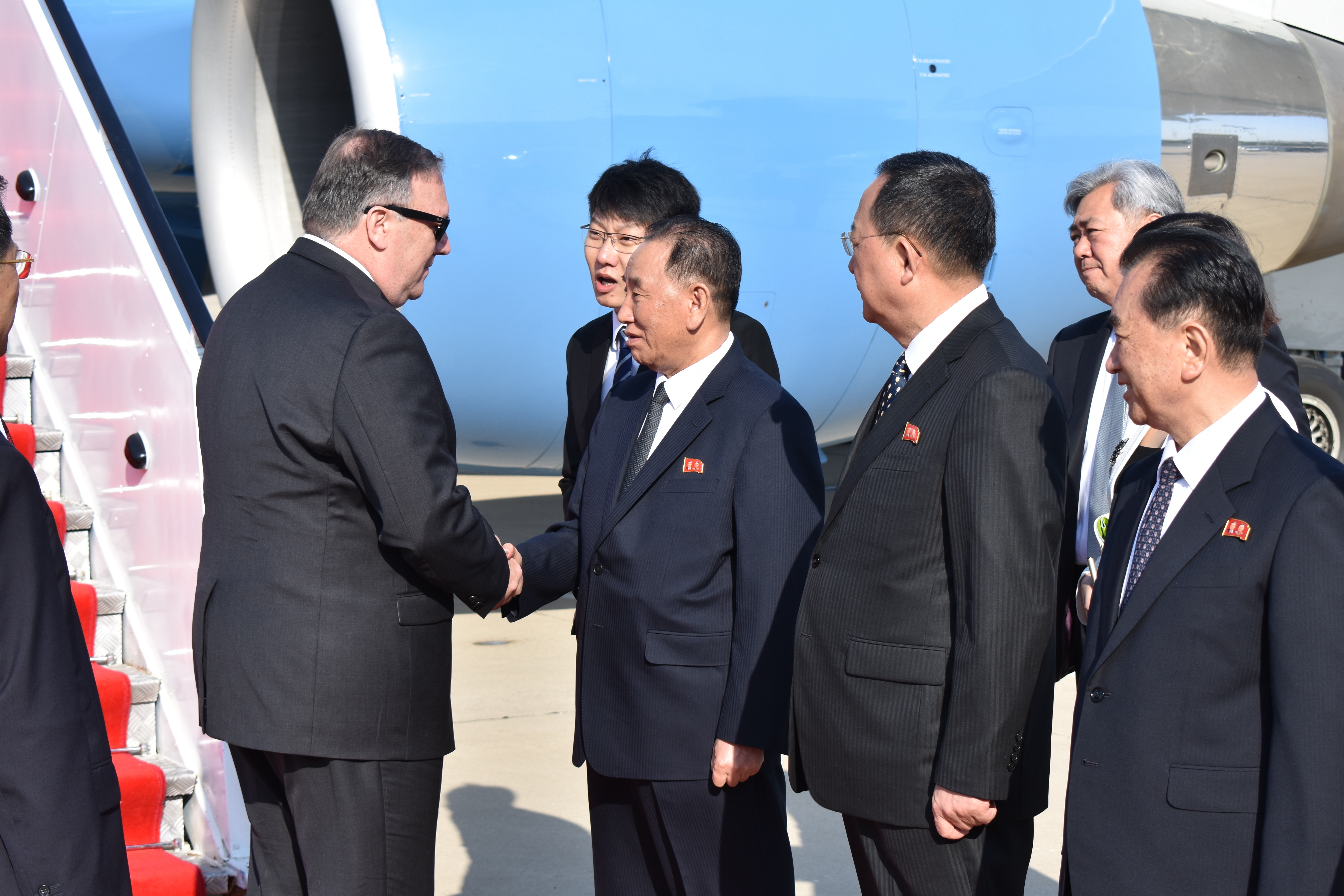 Here is the Daily Briefing for Wednesday, May 9, where we round up the day's biggest headlines for your perusal. Take a look.

Pompeo Returning from North Korea With Three U.S. Detainees

U.S. President Donald Trump said on Wednesday that three Americans detained by North Korea have been released and are on their way home with Secretary of State Mike Pompeo. "I am pleased to inform you that Secretary of State Mike Pompeo is in the air and on his way back from North Korea with the 3 wonderful gentlemen that everyone is looking so forward to meeting. They seem to be in good health," Trump wrote in a post on Twitter. Trump said he will greet Pompeo and the Americans when they land at Andrews Air Force Base outside Washington at 2 a.m. EDT Thursday morning. "Very exciting!" he wrote on Twitter.

Iran Lawmakers Shout 'Death To America', After Trump Nixes Nuclear Deal

Iranian lawmakers shouted "death to America" and set fire to a paper U.S. flag during angry scenes at the country's parliament in Tehran, a day after President Trump pulled out of the nuclear deal. The protest came as Iranian officials, including parliament speaker Ali Larijani and President Hassan Rouhani, said Wednesday they hoped European leaders will work with them to preserve the deal between Tehran and world powers without the U.S., but stressed that the nation could now decide to resume its nuclear program. Iran's supreme leader, who has the final say on all state matters, struck a more defiant tone. Ayatollah Ali Khamenei directly challenged Trump, saying "you cannot do a damn thing" after Trump announced he was renewing sanctions on Iran.



Mueller Reportedly Grilled Russian Oligarch Who Paid Cohen $500K

Stormy Daniels' lawyer claims to have stumbled upon hundreds of thousands of dollars in shady payments to President Trump's longtime personal attorney — and special counsel Robert Mueller has already grilled a Russian oligarch about the alleged dealings, a report says. Viktor Vekselberg, billionaire and chairman of asset manager Renova Group, apparently chatted with the feds about supposed payments his US affiliate made to lawyer Michael Cohen following the 2016 election. Sources told CNN that he was also questioned about donations that the head of his American company, Columbus Nova, gave to Trump's inaugural fund and campaign funds.

Trump Cheers GOP Winners in Tuesday Night's Primary Contests

President Trump on Wednesday praised Republicans for their performance in Tuesday's primary elections in three states. "The Republican Party had a great night. Tremendous voter energy and excitement, and all candidates are those who have a great chance of winning in November. The Economy is sooo strong, and with Nancy Pelosi wanting to end the big Tax Cuts and Raise Taxes, why wouldn't we win?" The first round of primaries for the 2018 midterm elects kicked off Tuesday night in Ohio, West Virginia, and Indiana. One of the biggest victories of the night was in West Virginia, where controversial GOP candidate Don Blankenship didn't win, which allowed Republicans to feel better about winning in the general election.

Rudy Giuliani: Mueller's Team is 'Scrambling' After Court Setbacks

Rudy Giuliani says recent court setbacks faced by Robert Mueller's team of prosecutors has thrown them for a loop, and says it's only a matter of time before they wrap up without any case against President Trump. "I think it got delayed by the judge's rather fierce criticism of their lack of authorization and their inability to produce any," he told the Washington Examiner on Tuesday. "They're scrambling around right now." U.S. District Judge T.S. Ellis III accused Mueller's team on Friday of trying to squeeze former Trump campaign aide Paul Manafort with charges of bank and tax fraud to get to Trump, and wondered if the special counsel is seeking "unfettered power" in the investigation. Giuliani said Trump's lawyers have not yet decided if Trump will speak with Mueller's team. He said his team's "next steps" are to "master all the facts" and "see what happens" in Manafort's case in Virginia.

Senators to Press Gina Haspel About Her Role in CIA Torture

Gina Haspel, President Trump's nominee to head the CIA, will face tough questions from senators Wednesday about her role in an agency interrogation program that was outlawed as torture. The focus of the Senate Intelligence Committee's confirmation hearing will be on Haspel's oversight in 2002 of a secret "black site" in Thailand where suspected terrorists were subjected to waterboarding and other harsh interrogation techniques. Haspel, a career CIA agent with more than 30 years at the agency, will have to answer questions about her involvement in the destruction of 92 CIA videotapes that showed prisoners being waterboarded.

Trump's Job Approval Best in a Year

Donald Trump's job approval rating has been 42% in each of Gallup's two most recent updates. While still on the low side compared with presidential ratings historically, it is an improvement from his 39% average thus far in 2018 and is his best weekly average since May 2017. Between May 2017 and late April 2018, Trump's job approval rating had been 40% or below in nearly every Gallup weekly measurement. The exceptions were 41% readings from April 2-8 of this year and from May 22-28, 2017. He has exceeded that in each of the past two weeks and registered two of the higher approval ratings in his tenure to date. His best was 45% during the first 10 days of his presidency.

Border Agents Catch Illegal Immigrants Trafficking $1.7 Million In Cocaine

Agents with U.S. Customs and Border Protection recently busted two Mexican Nationals attempting to traffic millions in cocaine into the U.S. Authorities stopped a white Honda Odyssey at Interstate 35's checkpoint near Laredo, Texas, Sunday and flagged the vehicle for further inspection after a K-9 indicated there was a drug odor coming from inside. During a subsequent search of the minivan, border agents discovered 22 bundles of cocaine weighing roughly 53 pounds, News 4 San Antonio reported. The drug haul carries a street value of more than $1.7 million, officials estimated. The suspects, both in the U.S. illegally from Mexico, were placed in the custody of the Drug Enforcement Administration.