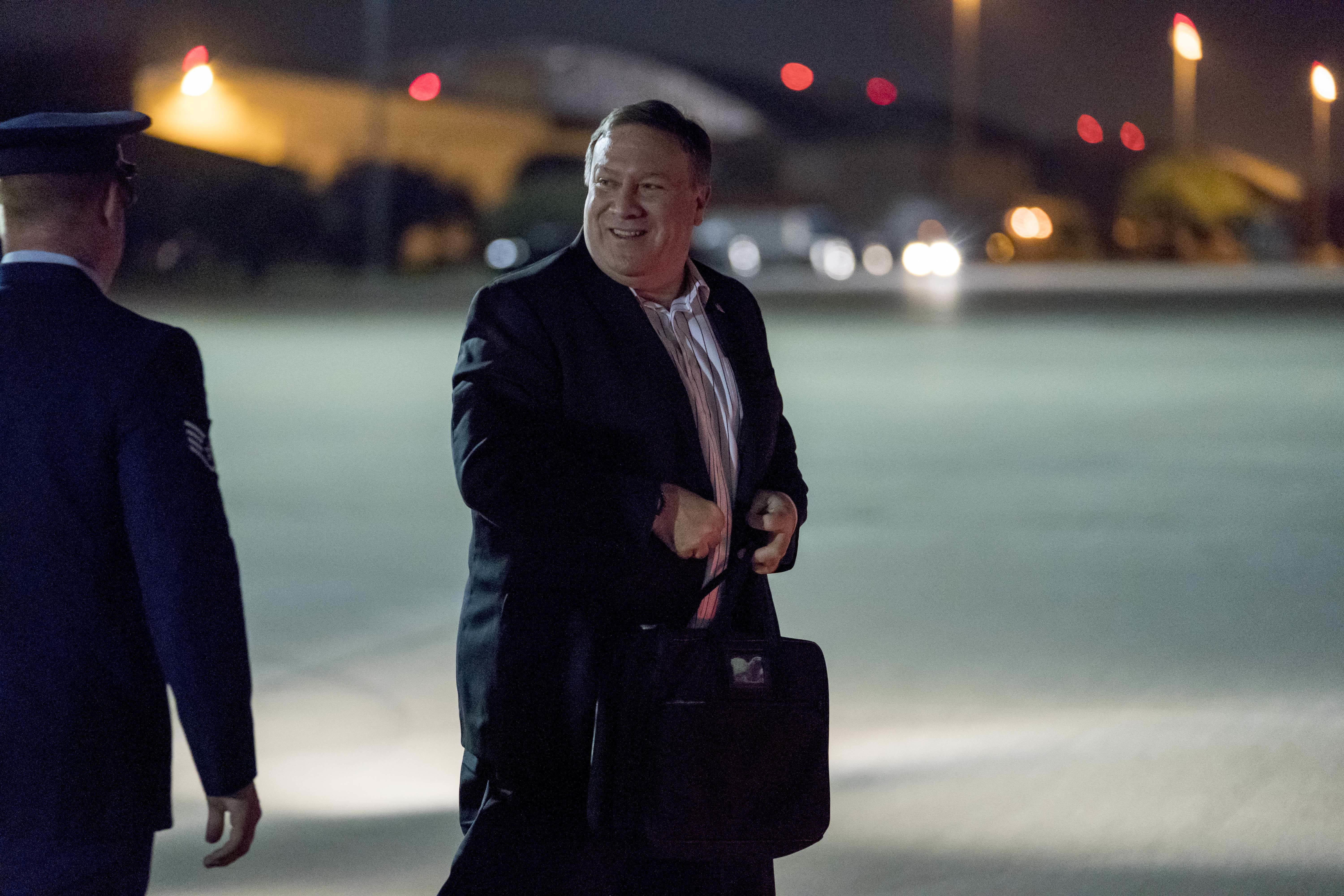 Here is the Daily Briefing for Thursday, July 5, where we round up the day's biggest headlines for your perusal. Take a look.




Pompeo Travels Back to North Korea

Secretary of State Mike Pompeo departed Joint Base Andrews early this morning for his third trip to North Korea, his first since last month's summit in Singapore between President Trump and North Korean leader Kim Jong Un. Pompeo has insisted that despite the paucity of details in the joint statement signed by Trump and Kim, the U.S. has made very clear precisely what it expects North Korea to do in the coming weeks and months to meet its obligation to dismantle its nuclear weapons and ballistic missile programs.

Activists Arrested Protesting Trump's Immigration Policies at Statue of Liberty

Activists in two separate protests against the Trump administration's immigration policies were arrested at the Statue of Liberty on Wednesday — one group unfurling a banner calling for the abolition of U.S. Immigration and Customs Enforcement, while in another act of defiance, a woman climbed the statue's base to protest immigrant family separations. Authorities evacuated thousands of visitors from Liberty Island, where the statue stands after a woman climbed to the statue's base around 3 p.m. and remained for several hours before police took her into custody. About 4,500 tourists were forced off the island when officials closed it, according to The New York Times, which said more than 20,000 tourists visit the Statue of Liberty every Fourth of July.

Trump Completes Interviews of Supreme Court Candidates

President Trump has completed the interview process for Supreme Court candidates after speaking with six judges, a source with knowledge of the selection process tells Fox News. The president and his vetting team have moved quickly ahead of an expected announcement on Monday. While liberal advocacy groups and others are gearing up for a major confirmation fight, Trump is charging ahead with an imminent decision to fill the seat of retiring Justice Anthony Kennedy, and potentially move the court more solidly to the right. Trump has interviewed six candidates: Appeals court judges Brett Kavanaugh, Raymond Kethledge, Amy Coney Barrett, Amul Thapar, Joan Larsen and Thomas Hardiman. The interviews comprised seven conversations – Trump talked to one candidate twice. Trump will announce his pick on July 9.

Trump Thanks Military Families at White House Picnic

President Trump thanked the hundreds of people who turned out to the White House's annual picnic for military families on the Fourth of July for the sacrifices they and those before them have made to maintain America's freedom. "To every service member here today and watching around the world — they're all watching — and to your incredible families, these are truly unbelievable people, thank you for keeping America safe, strong, proud, mighty, and free," Trump told spectators on the South Lawn of the White House during remarks that lasted seven minutes. "Our freedom only exists because there are brave Americans willing to give their lives to defend it and defend our great country," he continued. "American liberty has been earned through the blood, sweat, and sacrifice of American patriots. The immortal story of the American warrior is written in the fields of Gettysburg, the sands of Iwo Jima, the mountains of Afghanistan, and the snow of Valley Forge. It is the story of honor, duty, loyalty, and love."

GOP Delegation Visits Moscow Ahead of Summit

Senator Richard Shelby, a Republican from Alabama and a member of the U.S. congressional delegation visiting Russia said that he hopes for "a new day" in repairing relations between Russia and the U.S. Sen. Shelby was meeting with Russian Foreign Minister Sergey Lavrov in Moscow two weeks before the countries' presidents are to meet in Helsinki. "We come here realizing that we have a strained relationship, but we could have a better relationship between the U.S. and Russia, because we have some common interests around the world that we could hopefully work together on," Shelby told Lavrov at the start of their meeting. "We could be competitors, we are competitors, but we don't necessarily need to be adversaries."

FBI's Peter Strzok May Ignore House Subpoena

Peter Strzok, the former FBI agent who vowed to "stop" President Trump from winning the 2016 election despite being part of a federal investigation into his campaign, may not show up to testify next week despite being subpoenaed. "My client will testify soon, somewhere, sometime. We just got this subpoena today, so I don't know whether or not we are going to be testifying next Tuesday in front of these two particular House subcommittees," Aitan Goelman, Strzok's attorney, told CNN's, Chris Cuomo. The House Judiciary and Oversight committees sent Strzok the request earlier Tuesday. Goelman initially said his client preferred a public hearing after portions of his first testimony, an 11-hour event held behind closed doors were leaked.

Rescuers Race to Drain Water from Thailand Caverns in Hopes of Rescuing Soccer Team

Rescue teams in Thailand raced against the looming threat of more rain to pump out water from a flooded cave complex where 12 boys and their soccer coach have been stranded for almost two weeks. The boys and their coach were found late Monday in weak but otherwise stable and good health in the Tham Luang Nang Non cave in northern Thailand. But rescuers are having trouble deciding what is the best way to safely extract them, officials said Thursday. "What we worry about most is the weather," Chiang Rai provincial Gov. Narongsak Osatanakorn told reporters. "We can't risk having the flood back into the cave." Poonsak Woongsatngiem, an official from Thailand's interior ministry, told the Guardian that the water had been reduced by 40% in the last few days, clearing a 5,000-foot stretch of cave that the boys would need to cross.