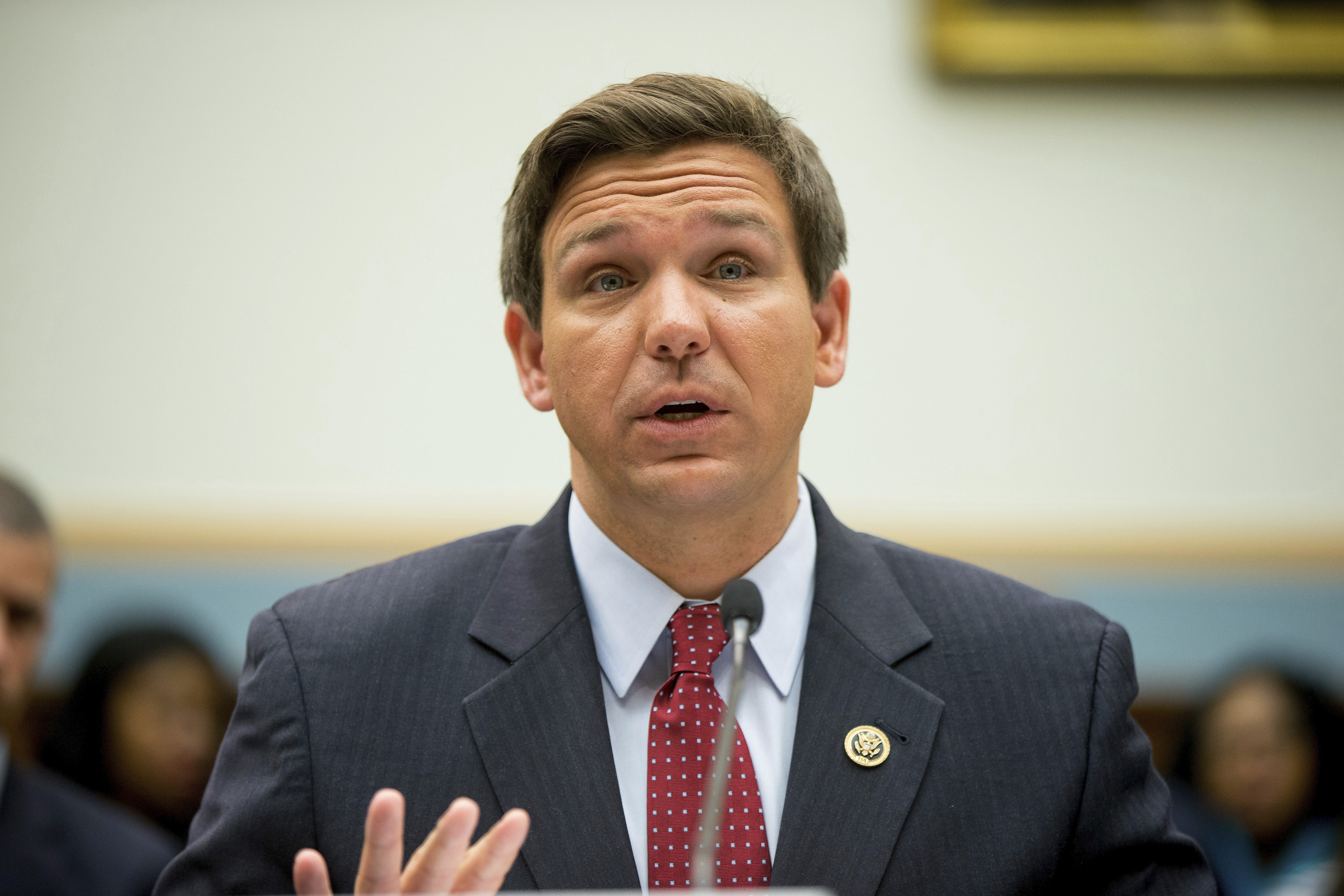 Here is the Daily Briefing for Tuesday, May 22, where we round up the day's biggest headlines for your perusal. Take a look.




Second Special Counsel Needed Because DOJ Can't 'Investigate Themselves'

Rep. Ron DeSantis, R-Fla., argued Monday that a second special counsel will ultimately be needed to examine why the Justice Department launched its investigation into President Trump, because the department has shown it can't investigate itself. "I don't think that the Justice Department's going to be able to investigate themselves," DeSantis said on Fox News. "I think that they've resisted our inquiries here in Congress for long enough, and so it's time that we did have a special counsel." DeSantis and other Republicans have been pressing for information about the origins of the Trump investigation for months, and only this week finally won an assurance that White House chief of staff John Kelly would get lawmakers the information they've been seeking.



Reported CIA Trump Campaign Mole Also Spied in '80 Election

Stefan Halper, the CIA operative and FBI informant that was allegedly used to gather information on the Trump campaign in 2016 was responsible for a spying operation in the 1980 presidential election, The Intercept has reported. According to the outlet, Stefan Halper managed CIA officials — reportedly under the direction of former CIA Director George H.W. Bush — from inside the Carter administration. The plot involved CIA operatives passing classified information about then-President Jimmy Carter's foreign policy to officials for the Ronald Reagan campaign to ensure it knew of any foreign policy decisions Carter was considering.

Giuliani Says Mueller Can't Talk to Trump Until Trump Hears More About FBI Source

One of Donald Trump's lawyers said Monday that the president can't agree to an interview with special counsel Robert Mueller's team without first learning more about the secret FBI informant who spoke with members of the Trump campaign during the 2016 race. "We can't let our guy go in and be questioned without knowing this," Rudy Giuliani said in an interview with HuffPost. Giuliani, who is on Trump's private legal team, spoke with HuffPost after Trump met with Deputy Attorney General Rod Rosenstein, FBI Director Christopher Wray and Dan Coats, the director of national intelligence, about congressional requests for information on the secret FBI source. The decision to set up the meeting, Giuliani said, was made by Trump and his White House lawyers without Giuliani's involvement, although he said he supported it. "I didn't advise against it," Giuliani said. "He has a right as president to say to the Justice Department you have to comply with a congressional subpoena or request."

Guns Found, Violent Threats Made at Schools Near Texas High School Shooting

Threats of more gun violence were made this week at schools in Texas, just as students from the high school in Santa Fe, Texas, returned for the first time since last week's school shooting that left nine students and one adult dead. Officials said two students at nearby schools were caught bringing guns to school, and gun threats were made at three other schools near Santa Fe. A gun was found in the backpack of a student at Hargrave High School, which is about an hour away from Santa Fe High School. At the same time, 14 miles away from Santa Fe High School, a student at League City Intermediate School was found with an unloaded gun and was taken into custody at the Galveston County Sheriff's Office, authorities told ABC affiliate station in Houston Monday. One student at a school nine miles away was arrested for making a threat and texting someone to bring him a gun. Another at a prep school phoned in a threat to shoot up the school. At a third school, a threat was written on the bathroom wall alleging that a shooting would take place on May 30.

Starbucks Says Drug Use, Sleeping Unacceptable as It Clarifies Guest Policy

Starbucks tried to dig itself out of controversy Monday by attempting to clarify a policy toward nonpaying guests that generated an onslaught of weekend criticism. The Seattle-based retailer on Saturday had said it would allow all guests in its U.S. company-owned stores to use its cafes, including its restrooms, whether or not they make a purchase. That announcement, which attracted some support, also drew complaints that cafes wouldn't have enough seats for paying customers and would turn into homeless shelters and drug havens. On Monday, Starbucks revealed more about the policy, telling The Wall Street Journal that employees now have detailed instructions on what to do if someone is behaving in a disruptive manner, such as smoking, using drugs or alcohol, using restrooms improperly or sleeping.

WNBA Will Donate Portion of Ticket Sales to Planned Parenthood in Defiance of Trump

After the Trump administration made the move to defund a portion of federal funding to Planned Parenthood, the Women's National Basketball League announced its support for Planned Parenthood "against the Trump administration's most recent attack on a woman's right to affordable, safe and comprehensive health care." This is another campaign promise made and kept by President Trump to end the flow of federal tax dollars to the largest abortion provider in the nation. The WNBA announced last Thursday the "Take A Seat, Take A Stand" program which will ensure $5 of every ticket sold goes to one of six organizations focused on women's health, including Planned Parenthood.

Trump Administration Condemns 'Sham' Election in Venezuela, Imposes New Sanctions

U.S. government officials on Monday denounced Venezuelan President Nicolas Maduro's declaration of victory in Sunday's election as a fraud and issued new sanctions designed to prevent Maduro from selling off the country's debt to U.S. entities and individuals. President Donald Trump's new executive order bars U.S. citizens from being involved in sales of the country's accounts receivable when it comes to oil and other assets. However, the Trump administration stopped short of slapping tougher direct oil sanctions against the Maduro regime, a step that opposition leaders have pressed for and was widely anticipated to take place in the wake of Maduro's orchestrated victory at the polls. Targeted crude oil sanctions against Venezuela would cripple Maduro's leftist administration, which is entirely dependent on crude sales to prop up its increasingly isolated and insolvent government. President Trump and top administration officials are wary of taking any action that would further hurt the Venezuelan people, who are already suffering from widespread food shortages brought on by the economic crisis. They also don't want to do anything that could increase domestic gasoline prices, which are already experiencing their annual spike ahead of the summer months of heavy vacation driving.

Another California City Rebels Against State's Pro-Illegal Immigration 'Sanctuary City' Policies

Another California city has joined the fight against the state's sanctuary city laws, which limit local authorities' ability to investigate illegal immigrants' status and communicate with federal immigration officials. Carlsbad's City Council voted 4-1 Monday to support the Trump administration's lawsuit against the state's pro-illegal immigrant sanctuary city policies, The San Diego Union-Tribune reported. Carlsbad is located near San Diego, where the all-Republican Board of Supervisors also voted in April to support the federal government's legal action. The U.S. Justice Department sued California in March over its interference with federal immigration policies, which Carlsbad officials said is endangering the public. Multiple other local city or county councils have voted to join the Trump administration's lawsuit or fight the state's policies in other ways.

Charlize Theron to Play Megyn Kelly in Upcoming Movie About Roger Ailes

Charlize Theron will star in the role of Megyn Kelly in an upcoming movie about former Fox News chairman and CEO Roger Ailes, according to a Monday night report. The Hollywood Reporter says Annapurna Pictures has already started casting for the film that will be directed by Jay Roach, who was behind the camera for the 2012 political picture "Game Change" which focuses on Sarah Palin's bid for vice president in 2008. Theron, 42, has been a major name in Hollywood for more than two decades and won an Oscar for Best Actress in 2003 for her portrayal of a serial killer in "Monster." Roach is also set to direct the movie adaptation of Michael Wolff's book "Fire & Fury: Inside the Trump White House" that became an instant bestseller earlier this year.