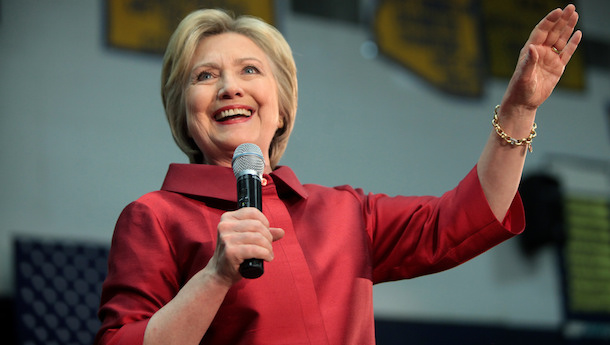 Earlier this week, when we polled BillOReilly.com visitors, 70% of you said the president should cut back on his tweets or stop the Twitter nonsense entirely. And according to another poll, a majority of Americans say the tweets actually harm national security.
Nevertheless, consider a simple question: Who would you rather have as commander-in-chief in the war against terror, Donald Trump or Hillary Clinton? Before you answer, consider the following, which makes a few dumb tweets look downright Solomonic.
Mrs. Clinton was in Baltimore Monday to speak at a charity fundraiser. For a change, she didn't give another list of excuses for her loss in November; instead, she put forth her prescription for dealing with terrorists and their sympathizers. Her message, boiled down to its essence, was that we in the West have to do a much better job at "getting to know one another."
Does that phrase sound familiar? Maybe Mrs. Clinton was channeling the great Rodgers and Hammerstein musical "The King and I." One of that show's memorable tunes featured these lyrics:
Getting to Know You,
Getting to Know All About You,
Getting to Like You,
Getting to Hope You Like Me.


Those words, written by Oscar Hammerstein II in 1951, are a pretty neat summary of the far left's approach to terror. If only we were more understanding, if only we were more tolerant, if only we were less belligerent, if only we kowtowed to every demand, the rest of the world would love us.
Mrs. Clinton continued: "Getting to know one another, learning about the experiences, the lives, the cultures, the religions, the food." Yes, she actually said "the food." Apparently if we all stuck to a strictly Halal diet, hatred will be starved to death and terrorism will wither away. This is beyond infantile.
Finally, Hillary Clinton told the audience they should be "putting yourselves in another's shoes, walking in them." Presumably she is not referring to the footwear favored by British-born radical Islamist Richard Reid. You may remember that Reid's specially-designed shoes were packed with plastic explosives that would have brought down an airplane packed with civilians had he not been subdued.
Mrs. Clinton, who was very nearly our president, also went out of her way to praise London Mayor Sadiq Khan. Whatever his effectiveness in running the city, the mayor is most certainly not a tough bloke when it comes to terrorism. This week he insisted that his government simply can't do much about the hundreds of Londoners who have returned to the city after joining the jihad in the Middle East. And last year Mayor Khan infamously declared that terror attacks are "part and parcel of life in a big city." He's walking in the shoes of Neville Chamberlain.
Right now, with his city under siege by Islamic terrorism, Mayor Khan is urging the British government to cancel a planned visit by President Trump. So if you're keeping score at home, it's perfectly fine for terror warriors to return to England, but the President of the United States should steer clear of the British Isles.
So we'll return to that original question and add a few more options: Who would you prefer to see out front in the fight against terror, who would make you feel most safe and secure? Hillary Clinton, Sadiq Khan, Theresa May, Angela Merkel, or Donald Trump?
Thought so.