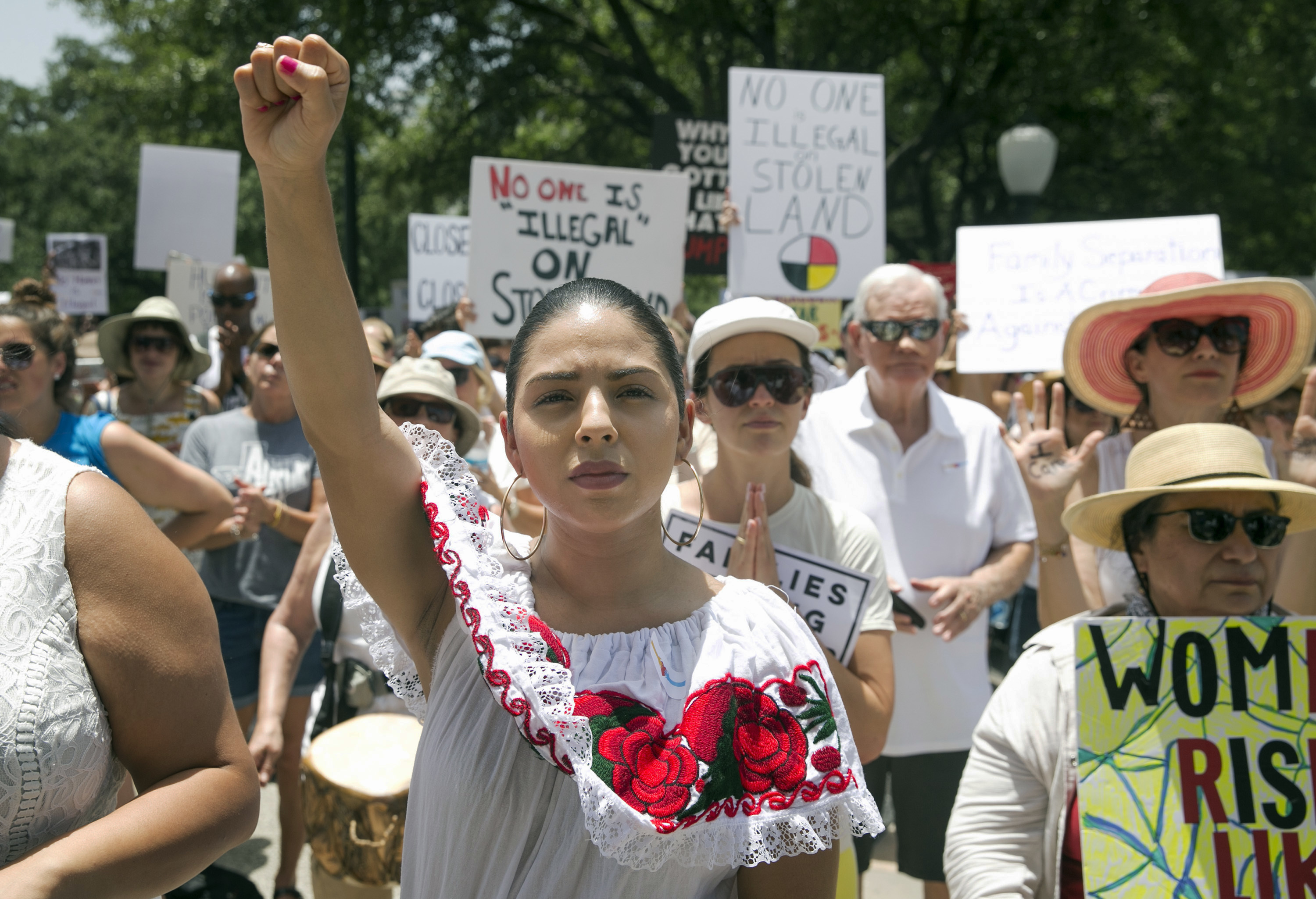 Here is the Daily Briefing for Monday, July 2, where we round up the day's biggest headlines for your perusal. Take a look.




Thousands protest Trump immigration policies across U.S.

Over the weekend marches took place across various U.S. cities to protest the Trump administration's immigration policy. There were more than 700 marches in cities from Los Angeles to Washington D.C. and New York City. The planned event was called "Families Belong Together", and was planned by dozens of progressive groups. The groups included, ACLU, Planned Parenthood, Move On and the Women's March. The protests were called to demand that the Trump administration end family separations, end family detentions and reverse its "zero tolerance" policy. Various Hollywood stars, spoke, performed and participated in these protests, including John Legend, Diane Guerrero, Chrissy Teigen, America Ferrera and Alicia Keys.

Border arrests between ports of entry dropped by 6,000 in June

The number of illegal immigrants arrested for attempting to cross the United States border illegally between ports of entry dropped in the month of June after months of record- high levels since President Trump took office. More than 34,000 individuals were arrested at the border by agents during the month of June, down about 6,000 arrests from 40,000 in May. This decline in arrests comes just months after the Trump administration's implementation of the "zero tolerance" policy.

Devin Nunes refers 17 DOJ, FBI officials to Trey Gowdy and Bob Goodlatte

House Intelligence Committee Chairman Devin Nunes referred the names of 17 current and former Justice Department and FBI officials to be interviewed for information related to potential surveillance abuse during the 2016 election. Nunes sent a letter to House Oversight Committee Chairman Trey Gowdy and House Judiciary Committee Chairman Bob Goodlatte. In the letter, Nunes urged his colleagues to reach out to the 17 individuals mentioned because they are said to "have relevant information" in regards to the investigation.

President Trump Gives Insight Into July 9th Supreme Court Selection

On Saturday President Trump gave deep insight into the backgrounds of the top perspective candidates to fill an opening on the Supreme Court. President Trump recently had extensive conversations with White House Counsel Don McGahn seeking additional insights on some of the likely finalist. President Trump discussed on Friday that he had narrowed the search down to five finalist, included in the finalist are two women. President Trump will announce his selection on July 9th. In addition the revealing that he is interviewing two women for the position, the president also said that he has no plan to ask the candidates whether they would vote to overturn Roe v. Wade abortion-rights ruling.

Gallup Poll: Nancy Pelosi's favorability rating falls to 9 year low

Nancy Pelosi's approval rating sunk to a 9-year low according to a new Gallup poll that was published on Friday, June 29th. The poll was conducted from June 1st to June 13th and has revealed that Nancy Pelosi has an approval rating of 29 percent. The 29 percent approval rating shows a five point drop since the last poll conducted in 2016. According to the poll, 53 percent of participants say they do not support her. Among Democrats, 55 percent saw her favorably, which is the lowest ranking recorded since 2009. With the midterm elections approaching, Nancy Pelosi is campaigning for Democrats in order to take control of the House of Representatives during the midterm elections.

Global Displacement Crisis Worsens with 68.5 million people displaced in 2017

According to a report by the United Nations Refugee Agency, a record 68.5 million people were forcibly displaced at the end of 2017. The total displacement numbers have been continuously rising for nearly 20 years now, now official numbers have doubled since that time. The number is very likely to continue rising. At this time the problem remains localized, about two thirds of the world refugee situation remains focused in 5 countries. This implies that a viable solution in any of those countries would dramatically change the global displacement situation. The responsibility of hosting refugees has been disproportionately borne by developing countries, with 85% of all refugees hosted in developing countries.



Veterans Horrified at Plans for D-Day Concert

Many veterans have condemned plans for D-Day pop concert on Sword beach to commemorate the 75th anniversary. There are two Dutch men organizing the concert, are expecting an attendance of 75,000. The organizers have said that the concert is to educated millennials about D-Day and World War II. Many Veterans are upset about the concert due to the fact that the concert will be on Sword beach where thousands of Allied troops died defending their respective countries.