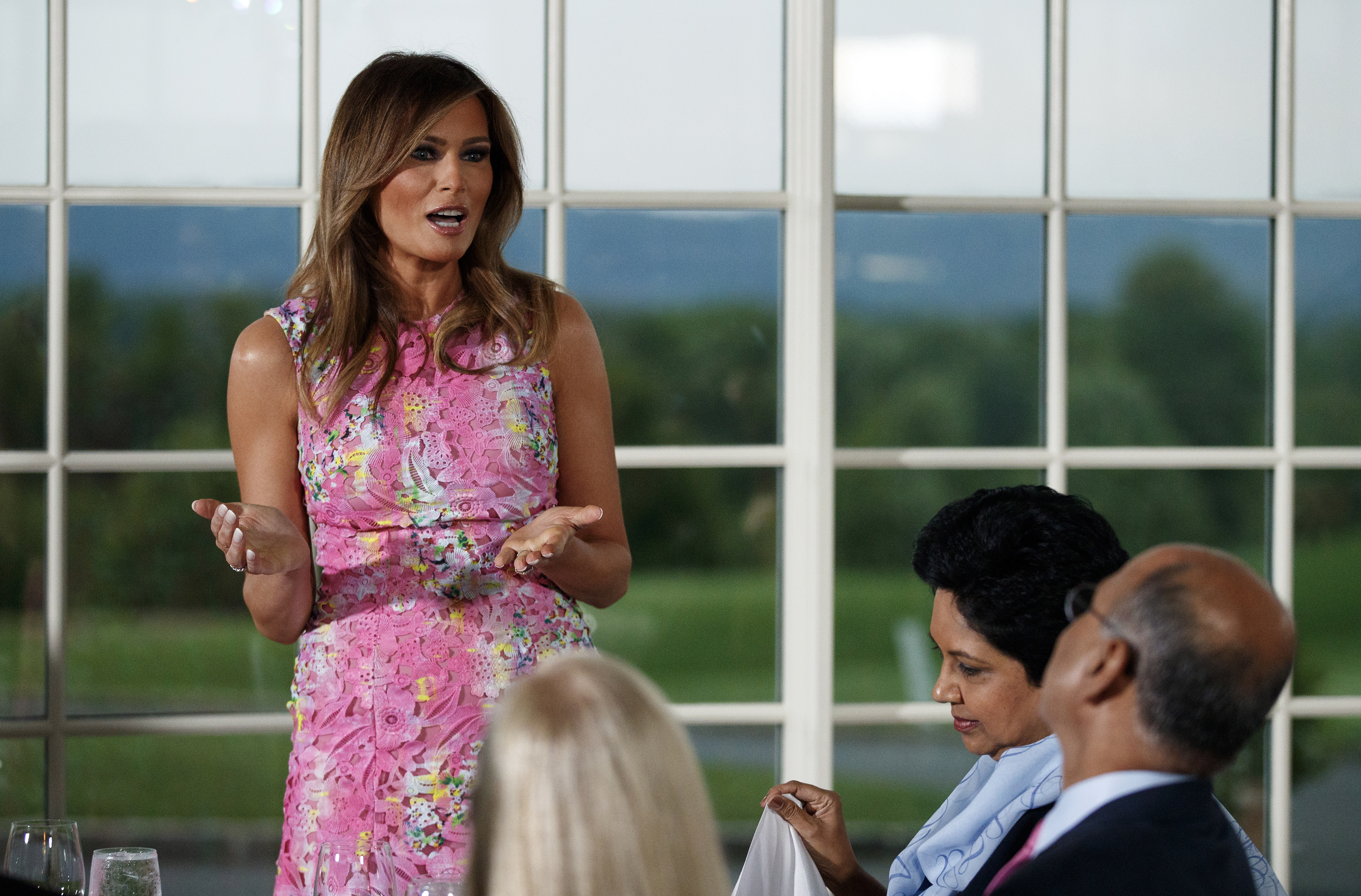 Here is the Daily Briefing for Thursday, August 9, where we round up the day's biggest headlines for your perusal. Take a look.


RNC Releases New Video Celebrating Winning

The Republican National Committee has a message in the wake of Tuesday's election: Winning is winning. A new, nearly minute long commercial released by the organization starts with footage of cable news coverage of the special election in Ohio's 12th Congressional District. Republican Troy Balderson was expected to defeat Democrat Danny O'Connor by a narrow margin, though the race had still not been called Wednesday. The footage shows repeated uses of the phrase "moral victory" to describe the contest for former Rep. Pat Tiberi's term. But then the commercial switches to footage from the movie "The Fast and the Furious" to make its ultimate point: that, as Vin Diesel's character Dominic Toretto says in the clip, "Winning is winning." The commercial was released on YouTube on Wednesday night.

Trump Honors Melania and Sends Audience to Their Feet

President Trump gathered some of America's most successful and influential business leaders for dinner at his golf club in Bedminster, New Jersey, Tuesday night to hear directly from American industry leaders about how to keep the American economy booming. Trump went around the room asking executives and CEOs how the American economy is working (or not working) for them. He received a number of colorful responses. To kick off the round of comments, Trump recognized the business leaders sitting at his own table. When he got to Melania, Trump had a compliment ready. Trump said of the first lady, "The great first lady she has been so caring, so loving, so good to people. And they, you know, I was in Ohio the other night, and there were so many signs: 'We love our first lady. We love our first lady.'" Trump then said, "Melania, please, stand." The room burst into applause.

Manafort Trial Focus Shifts to Bank Fraud as Prosecutors Near End of Case

The trial of Paul Manafort, U.S. President Donald Trump's former campaign chairman, is expected to shift focus on Thursday from his alleged tax evasion to bank fraud as the prosecution's case heads into its final two days. Prosecutors are expected to call a series of bankers to the stand to question them about Manafort's alleged efforts to mislead them with doctored financial statements in a scramble in 2015 and 2016 to borrow against real estate. Of the 18 felony charges Manafort faces, nine relate to bank fraud and involve mortgages from Citizens Bank, Banc of California, Genesis Capital, and the Federal Savings Bank, a small Chicago lender whose chief executive was named to an economic advisory panel to the Trump campaign.

Muslim Democrat Will 'Probably Not' Support Pelosi as Leader

Rashida Tlaib, a Democrat running for a House seat in Michigan, said Thursday she probably won't vote for Nancy Pelosi to lead the Democrats if she wins in November. "Probably not," Tlaib told CNN Thursday morning when asked if she would vote to keep Pelosi in her leadership position in the next Congress. "The fact that there are structures and barriers for working families in my district that need to be dismantled," she added. "And supporting big banks and supporting efforts that I don't think put the people first is troubling, and I need somebody that fully understands why I'm so passionate about those issues." Pelosi has been on shaky ground for the last few years as Democrats have failed to win back the House. Rep. Tim Ryan, D-Ohio, challenged her and lost in 2016, but her age and growing support for socialist policies in the Democratic Party could make her vulnerable to a new challenge after the midterm elections.

Man at Compound Accused of Training Kids for School Attacks

A father arrested at a ramshackle New Mexico compound where 11 hungry children were found living in filth was training young children to commit school shootings, prosecutors said in court documents obtained Wednesday. The allegations against Siraj Ibn Wahhaj came to light as authorities awaited word on whether human remains discovered at the site were those of his missing son, who is severely disabled and went missing in December in Jonesboro, Georgia, near Atlanta. The documents say Wahhaj was conducting weapons training with assault rifles at the compound on the outskirts of Amalia, a tiny town near the Colorado border. "He poses a great danger to the children found on the property as well as a threat to the community as a whole due to the presence of firearms and his intent to use these firearms in a violent and illegal manner," Prosecutor Timothy Hasson wrote in the court documents Wednesday.

Immigration Raids in Nebraska, Minnesota Target Businesses

A large federal law enforcement operation conducted Wednesday targeted businesses in Nebraska and Minnesota that officials say knowingly hired and mistreated immigrants who are in the U.S. illegally. The investigative arm of U.S. Immigrations and Customs Enforcement Homeland Security Investigations led the operation that saw about a dozen businesses and plants raided and 17 business owners and managers indicted for fraud, wire fraud, and money laundering. Of those, 14 were taken into custody Wednesday and three were still being sought. Authorities also arrested more than 130 workers at various businesses, busing them to Grand Island, Nebraska, to be questioned and processed.

Tweets You Might Have Missed!

@RealDonaldTrump, August 8: "The Republicans have now won 8 out of 9 House Seats, yet if you listen to the Fake News Media you would think we are being clobbered. Why can't they play it straight, so unfair to the Republican Party and in particular, your favorite President!"


@RealDonaldTrump, August 8: "As long as I campaign and/or support Senate and House candidates (within reason), they will win! I LOVE the people, & they certainly seem to like the job I'm doing. If I find the time, in between China, Iran, the Economy and much more, which I must, we will have a giant Red Wave!"

@RudyGiuliani, August 9: "Look at what a PRahm Emmanuel continues to fiddle while Chicago burns. 72 shootings over last weekend. NO ARRESTS! What a disgrace! Great choice in police professional Garry McCarthy.