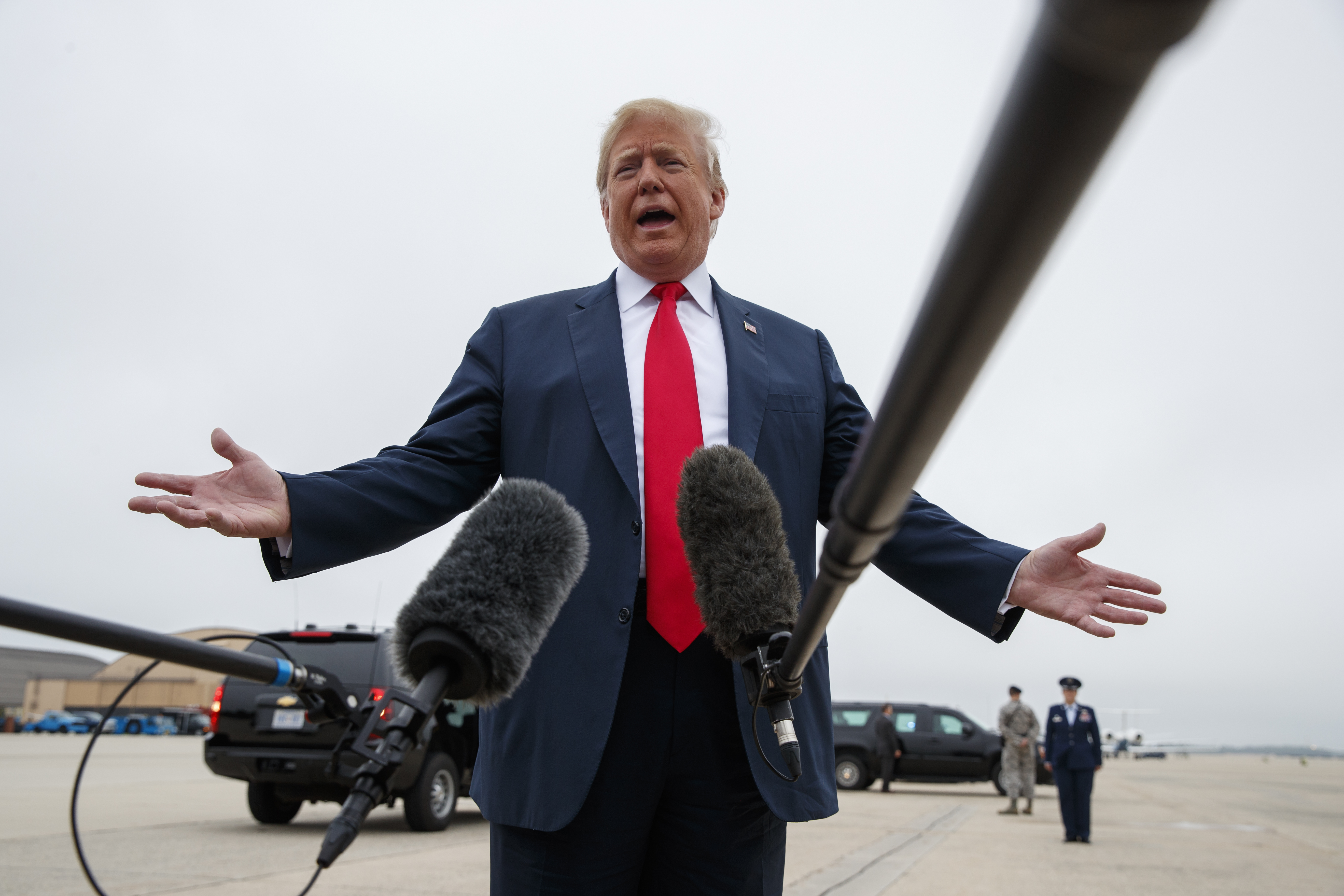 Here is the Daily Briefing for Friday, June 1, where we round up the day's biggest headlines for your perusal. Take a look.




Trump Questions Why TBS Hasn't Fired Samantha Bee?

President Trump on Friday blasted TBS over comedian Samantha Bee's recent use of a vulgar slur to describe first daughter Ivanka Trump. In a Friday morning tweet, Trump questioned why Bee hasn't been fired for calling his daughter a "feckless c—." Trump said, "Why aren't they firing no talent Samantha Bee for the horrible language used on her low ratings show?" he tweeted. "A total double standard but that's O.K., we are Winning, and will be doing so for a long time to come!"

Oakland Church Urges Congregation Never to Call the Cops

A church in Oakland, California, is urging its members never to call the police again. Church leader Nichola Torbett said the First Congregational Church of Oakland, which is part of the United Church of Christ denomination, will never call the cops again in nearly every circumstance, and dozens of members of the congregation agreed to do the same. "We can no longer tolerate the trauma inflicted on our communities by policing," Torbett said last month in front of churchgoers holding photos of African-Americans killed by law enforcement. "How do police help? They often don't," Torbett later said in an interview. "So, especially as white people, why call them?"

Trump Considering Clemency for Blagojevich, Stewart

President Trump on Thursday said he is considering commuting the sentence of former Illinois Gov. Rod Blagojevich (D) and pardoning TV personality, Martha Stewart. Trump's comments come after he pardoned conservative commentator Dinesh D'Souza, who pleaded guilty to a felony campaign finance violation. Trump told reporters in his private cabin aboard Air Force One he believes Blagojevich was "being stupid" but added that "every other politician" has done it and that his sentence is excessive. Stewart was convicted in 2004 for lying to federal investigators about suspected securities fraud and served time in federal prison. She also has ties to Trump through "The Apprentice," having hosted a spinoff in 2005. "Martha Stewart was harshly and unfairly treated," the president said. "And she used to be my biggest fan in the world … before I became a politician."

Trump's Trade Deal with Canada

President Trump claimed the U.S. would "agree to a fair deal," or else there would be no deal with Canada as the two countries discuss renegotiating the North American Free Trade Agreement. "The United States has been taken advantage of for many decades on trade," Trump said in a statement. "Those days are over. Earlier today, this message was conveyed to Prime Minister Justin Trudeau of Canada: The United States will agree to a fair deal, or there will be no deal at all." The statement comes after Trudeau said Thursday afternoon that a meeting with Trump didn't occur earlier this week because Vice President Mike Pence told the Prime Minister he must allow a five-year sunset clause to be included in the trade agreement in order for the meeting to even happen. Trudeau called the condition "completely unacceptable."

Media Restricted from Television Academy Event Honoring Samantha Bee

Reporters were barred from entering a Television Academy reception for an event honoring TBS late night host Samantha Bee on Thursday, the same day she faced a firestorm in the media for using a slur to refer to first daughter Ivanka Trump. A spokesperson for the organization told The Hollywood Reporter and other media outlets that press would not be allowed to enter the reception ahead of the awards ceremony "as a result of today's events involving Samantha B," according to the Reporter. Bee's show "Full Frontal" and its cast members were recognized at the Thursday night event just hours after the host and network apologized for her crude Wednesday night monologue.

Prosecutors Question Comey for Probe into McCabe

Prosecutors in the U.S. Attorney's Office for the District of Columbia recently interviewed former FBI Director James Comey as part of a criminal investigation into his former deputy, Andrew McCabe. The Washington Post reported the interview on Thursday night. McCabe was accused by the Justice Department's inspector general in April of having lied to federal investigators and Comey on four occasions about improperly authorizing the disclosure of sensitive information to the media. The inspector general, Michael Horowitz, referred the matter to the D.C. U.S. attorney's office to determine whether McCabe should face criminal charges. Lying to federal investigators can carry a prison sentence of up to five years.

Mueller Team Spent $4.5 Million in Six Months

Special counsel Robert Mueller has cost American taxpayers another $4.5 million. According to a new statement of expenditures released on Thursday showing expenses between Oct. 1, 2017 and March 31, 2018, most of the money, $2.78 million, was spent on personnel compensation and benefits. Mueller also announced an additional $5.4 million had been spent separately on the investigation by Justice Department officials not on Mueller's team. A statement of expenditures released in December showed the investigation had cost roughly $6.7 million through that point, dating back to Mueller's appointment in mid-May 2017. This means nearly $17 million has been spent on roughly one year of work for Mueller, which has resulted in dozens of criminal charges and five guilty pleas.

Roseanne Begged for Her Job Back

Following days of heavy backlash for a string of controversial tweets, Roseanne Barr on Thursday said she "begged" ABC to give her a chance to "apologize & make amends." "I begged Ben Sherwood at ABC 2 let me apologize & make amends," the embattled TV star tweeted about the ABC president. "I begged them not to cancel the show. I told them I was willing to do anything & asked 4 help in making things right. I'd worked doing publicity4 them 4free for weeks, traveling, thru bronchitis. I begged4 ppls jobs." In the same string of tweets, Barr wrote, "He said: what were you thinking when you did this? I said: I thought she was white, she looks like my family! He scoffed & said: "what u have done is egregious, and unforgivable.' I begged 4 my crews jobs. Will I ever recover from this pain? Omg". The tweets followed a series of others, in which Barr spoke of God and religion, and appeared to specifically want to make amends to a few individuals, such as Valerie Jarrett and Michelle Obama who were the focus of her provocative tweets.

New Tapes Released of Michael Cohen Threatening Reporter With 'F-----G Disgusting' Legal Action

NPR released audio of Michael Cohen, President Trump's personal lawyer, threatening a reporter in an expletive-laden rant back in 2015. In the recording, Cohen warned Tim Mak, who at the time was a reporter for the Daily Beast, to "tread very f---ing lightly" with an article he was writing in about claims made by President Trump's ex-wife, Ivana Trump, about when he allegedly assaulted her in 1989. "I'm warning you tread very f-----g lightly because what I'm going to do to you is going to be f-----g disgusting. Do you understand me? Don't think you can hide behind your pen, because it's not going to happen," Cohen said in 2015.

Race Studies Conference Discusses 'White Rage,' 'Becky'

The University of New Mexico is hosting a social justice conference this week with speakers discussing racism, colonization, and white "anti-racism" in education. The Critical Race Studies in Education Association Conference is a three-day event sponsored by the Critical Race Studies in Education Association, several UNM departments, and social justice organizations. The conference agenda lists social justice lectures primarily focused on race and education, such as "Antiblackness, White Rage, and the Threat to White School Space," "Confronting white supremacist ideology in everyday campus life," and "Undoing Colonization America's Greatest Mind F**k." Other panels focus specifically on white women, such as "Examining Becky and the White Hegemonic Alliance" and "How college creates Becky: White women's racism in higher education."