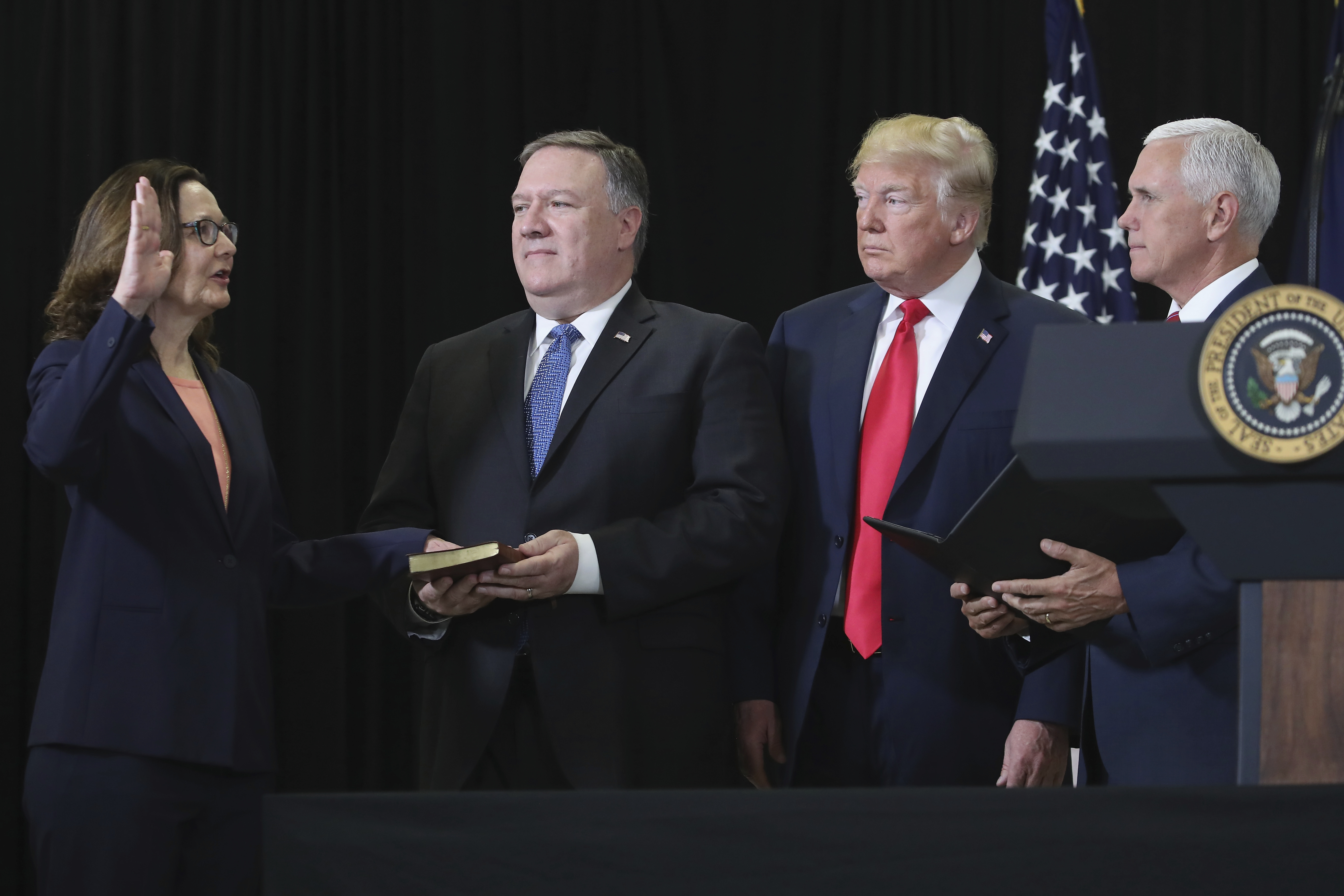 Here is the Daily Briefing for Monday, May 21, where we round up the day's biggest headlines for your perusal. Take a look.




Trump Swears in Gina Haspel

President Trump swore in Gina Haspel as the first woman to lead the Central Intelligence Agency on Monday, hours after he criticized her predecessor, John Brennan, for carrying out a "political hit job" against him. "There is no one in this country better qualified for this extraordinary office than you," Trump said to Haspel during a ceremony at the agency's headquarters in Langley, Va. "It took courage for her to say yes in the face of a lot of negative politics, but I'll tell you: when you testified before the [Senate Intelligence] Committee, it was over. There was nothing else they could say. There was nobody more qualified than you." The ceremony took place just hours after the president, quoting conservative radio host Dan Bongino, said Brennan had "disgraced himself" and "the entire Intelligence Community." Trump accused the former CIA director, who served during the Obama administration, of destroying Americans' faith in the top intelligence agency. He had described Brennan as one of "the biggest liars and leakers" in government.

In Re-Election Announcement, Bernie Sanders Vows to be Trump's 'Fiercest Opponent in the Senate'

Sen. Bernie Sanders, I-Vt., announced his bid Monday for a third term and aimed to earn more support in the November 2018 election by promising to be President Trump's worst enemy in the Senate. "Today, I am announcing my intention to run for re-election to the United States Senate in 2018," Sanders wrote on Twitter. "These are frightening and unprecedented times. We have a president who is not only a pathological liar, but someone who is trying to win votes by dividing our nation up based on the color of our skin, our country of origin, our religion, our gender or our sexual orientation," he continued. "If reelected, you can be sure that I will continue to be the fiercest opponent in the Senate to the rightwing extremism of Trump and the Republican leadership."

Trump Demands Review of Russia Investigation Surveillance Tactics

President Trump says that, on Monday, he will order an investigation into whether the FBI and the Department of Justice "infiltrated or surveilled" his campaign "for political purposes," potentially setting up a showdown between the president and his intelligence and law enforcement agencies. "I hereby demand, and will do so officially tomorrow, that the Department of Justice look into whether or not the FBI/DOJ infiltrated or surveilled the Trump Campaign for Political Purposes - and if any such demands or requests were made by people within the Obama Administration!" Trump tweeted, after a string of other tweets denigrating the special counsel's investigation into Russian election interference. The White House did not immediately provide guidance on what exactly Trump meant in terms of actions to be taken on Monday.




Thousands Attend Service for Exchange Student Killed in Santa Fe High School Shooting

Thousands attended a funeral service Sunday to remember the Pakistani exchange student killed in the Santa Fe High School shooting. Sabika Sheikh was one of the 10 people killed in the shooting Friday morning. The attack left 10 others injured in what Texas Gov. Greg Abbott described as "one of the most heinous attacks that we've ever seen in the history of Texas schools." The funeral service was held at a Houston-area mosque Sunday. Sheikh's host family spoke during the service, saying that Sabika wanted to be a businesswoman. She had been attending the school since last August.

Barack, Michelle Obama to Produce Films, TV Shows for Netflix

Netflix announced Monday that former President Barack Obama and former first lady Michelle Obama have signed an agreement to produce films and series for the entertainment streaming service. The couple could potentially be producing anything from a scripted series to reality shows, to documentaries. "President Barack Obama and Michelle Obama have entered into a multi-year agreement to produce films and series for Netflix, potentially including scripted series, unscripted series, docu-series, documentaries, and features," the company said. In March, Netflix named former Obama national security adviser and former ambassador to the United Nations Susan Rice to its board of directors.

Mike Pompeo Outlines New Sanctions on Iran

President Trump plans to implement "unprecedented" sanctions pressure on Iran in order to force the regime to negotiate an end to its regional aggression, Secretary of State Mike Pompeo said Monday. "These will indeed end up being the strongest sanctions in history when we are complete," Pompeo said Monday at the Heritage Foundation. That would outstrip even the "maximum pressure" brought to bear on North Korea in a last-ditch effort to stop the communist regime from acquiring the ability to deliver nuclear weapons to the United States. Pompeo, who denounced the 2015 nuclear deal for enabling Iran's regional aggression, called for a new deal every bit as ambitious as the effort to convince North Korea to surrender its nuclear weapons.

Sign on Professor's Door Calls Republicans 'Heartless A**Holes'

A professor at California State University-East Bay displays signs on her office window declaring that "Republicans are heartless a**holes" and "F**k the A**hole in Chief." The signs were spotted at the office of Assistant Professor Monique Manopoulos by members of the CSU East Bay Young Americans for Freedom (YAF) chapter, which posted an image of the signs to Twitter Thursday afternoon. The YAF chapter president, Bruce Rodriguez, told Campus Reform that the signs were discovered in Manopoulos's office, which is located within the Student Faculty Support Building. Campus Reform reached out to the French professor, who responded that she is "just exercising my First Amendment right." She did not care to elaborate.