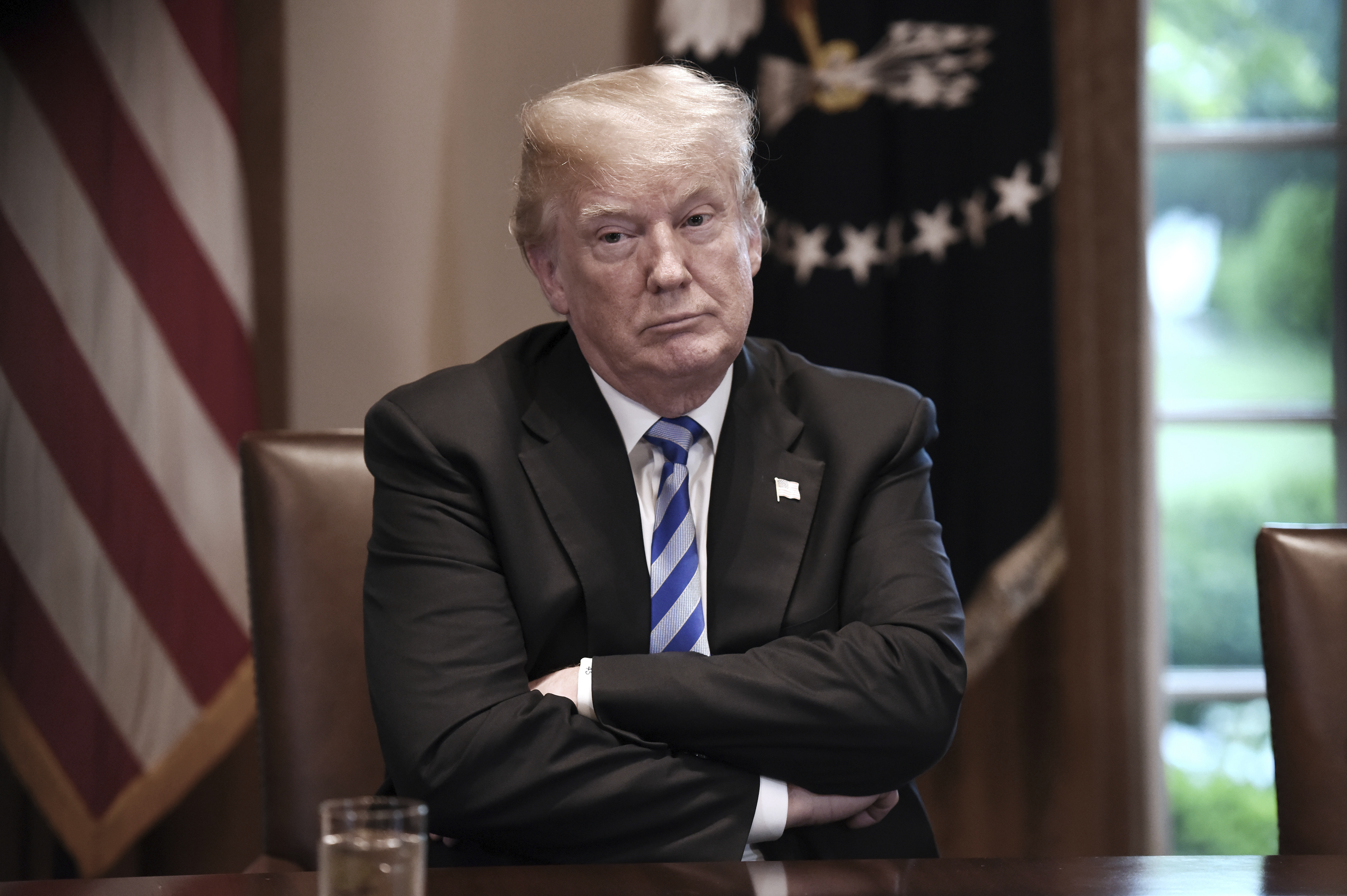 Here is the Daily Briefing for Thursday, May 17, where we round up the day's biggest headlines for your perusal. Take a look.



'Bigger Than Watergate' – Trump Thinks Obama's FBI Spied on His Campaign

President Donald Trump questioned whether the Obama administration's department of justice and FBI spied on his presidential campaign with a confidential informant Thursday morning. Trump sent out a tweet saying, "Wow, word seems to be coming out that the Obama FBI 'SPIED ON THE TRUMP CAMPAIGN WITH AN IMBEDDED INFORMANT.' Andrew McCarthy says, 'There's probably no doubt that they had at least one confidential informant in the campaign.' If so, this is bigger than Watergate!" On Fox & Friends Thursday morning, former prosecutor and columnist, Andrew McCarthy said, "What happened here is they did not have a criminal predicate to open an investigation on Trump as they had an immense predicate to conduct on president Clinton." McCarthy went on to say, "They used powers covertly to investigate the Trump campaign during the stretch run of the campaign under circumstances where they did not have evidence that anyone had actually committed a crime." McCarthy referred to a recent New York Times story which noted that "at least one government informant met several times with Mr. Page and Mr. Papadopoulos," who were both advisory members of the Trump campaign.

Stormy Daniels' Lawyer Threatens Another Journalist

Stormy Daniels' infamous attorney Michael Avenatti apparently threatened another reporter and publication with a lawsuit, this time targeting Law and Crime for running a piece analyzing his appearance at a court hearing in April. The news was disclosed Wednesday evening in a piece by Rachel Stockman describing Avenatti's pattern of aggressively attacking reporters and outlets who scrutinize his professional conduct. Stockman alleges that "after the publication of our April 26 article that Avenatti deemed 'unfair' and 'complete bullshit,' Avenatti threatened to sue our reporter, Colin Kalmbacher, personally and then our publication — and then whoever 'edited' the article as well." Beyond his legal threat, Stockman said that Avenatti also threatened to badmouth the reporter responsible for the piece during his upcoming appearance on "The View." According to Stockman, Avenatti has "threatened to 'cut off' certain networks and print publications for coverage that was unfavorable to him personally."

Trump's Surgeon General Jumps into Action in Medical Emergency on Delta Flight

United States Surgeon General Jerome Adams reportedly assisted flight attendants in a medical emergency on board a Delta flight Tuesday. Adams, who was appointed by President Donald Trump, reportedly was on a flight to Jackson, Mississippi, when flight attendants began asking passengers if there was a doctor on board. Adams said he alerted the attendants that he was indeed a doctor and assisted in the medical emergency. It is not clear at this time what the medical emergency was, but Delta released a statement which said Adams helped when hearing a passenger needed medical attention. "Prior to takeoff, Delta flight 1827 from Fort Lauderdale to Atlanta returned to the gate following a customer illness. Medical assistance was provided by the U.S. Surgeon General who worked with our flight crew to aid the customer," Delta said in a statement. "Delta thanks the Surgeon General for volunteering his services in assisting this customer."

Divisions Deepen as Mueller Probe Hits One Year

Partisan divisions over the federal investigation into Russia's interference in the 2016 presidential election deepened Wednesday as new developments rippled across Capitol Hill. Senate Judiciary Committee Chairman Chuck Grassley (R-Iowa) started the day with the release of more than 2,000 pages of transcripts of interviews with Donald Trump Jr. and other participants in a controversial 2016 Trump Tower meeting with a Russian lawyer, a move that Democrats said signals an effort to prematurely end the committee's investigation. The Senate Intelligence Committee said it agrees with the intelligence community's assessment (ICA) in 2016 that Russian President Vladimir Putin ordered an interference campaign in the U.S. election to help President Trump breaking from its counterpart in the House. And in the House, three members of the Freedom Caucus sent a letter to Trump asking him to intervene in their increasingly acrimonious battle with the Department of Justice over access to documents related to Mueller's investigation. The three disputes came on the eve of the anniversary of the launch of special counsel Robert Mueller's investigation into Russian interference.

Kellyanne Conway: We Know Who Some of the Leakers Are

White House adviser Kellyanne Conway said Thursday that she knows who some of the officials are who have been leaking information about internal White House procedures. "Somewhat, yes," Conway said when asked on Fox News if any of the identities of the leakers are known. "But they're not all in the press and comms shop either, and they're not all junior folks." Conway didn't name anyone and didn't say if steps were being taken to discipline leakers. Conway said that many of the leaks have not been leaks of damaging policy information, and instead have been leaks that are aimed at making White House officials look bad. "I think that people who were leaking last week clearly were doing that to hurt the people that were the target of the leaks," she said. She added that in most cases, the leak is about the process, and not about policy information.

Dixon H.S. Students Not in Attendance Today After School Shooting

Students at Dixon High School will not be in attendance today after a school shooting Wednesday morning. Charges were filed against Matthew A. Milby, 19, of Dixon, who was wounded by a police officer after firing shots in the high school hallway while staff and seniors were meeting for a graduation rehearsal, Illinois State Police announced late Wednesday. Milby is charged with aggravated discharge of a firearm, aggravated discharge at a school employee and aggravated discharge at a school building. Milby, who was wounded in an exchange of gunfire with a school resource officer, remains hospitalized with what authorities describe as non-life-threatening injuries and is under surveillance. A Lee County judge set bond at $2 million. Officer Mark Dallas, who has worked at Dixon High School for five years, was hailed as a hero for shooting and arresting Milby.

Surge in Armed Police at Schools

Five years after NRA Executive Vice President Wayne LaPierre urged schools to increase security there has been a surge in those with armed police to nearly 50 percent of all primary and secondary schools in the nation. According to the report from the National Center for Education Statistics and the Bureau of Justice Statistics, 65 percent of secondary schools and 36 percent of primary schools have a "sworn law enforcement officer," and most are armed. A new Pew Research Center analysis of the data shows that despite some public outcry about stationing cops in schools, communities around the nation have been doing that for 10 years. The analysis was released just before reports of a new school shooting Wednesday in Dixon, Ill. In that case, an armed officer stationed in the high school shot back and prevented a potential disaster.

Jobless Claims are Running at the Lowest Level in Nearly a Half Century

New applications for unemployment benefits rose by 11,000 to 222,000 in mid-May, the Department of Labor reported Thursday. Forecasters had expected a slight uptick in new jobless claims, after the numbers scraped the lowest levels in nearly half a century in recent weeks. Even with the weekly increase, however, average weekly claims for the past month are the lowest in over 48 years. Low claims are a good sign for the economy. They suggest layoffs are rare and Thursday's report suggests that prospects are getting better and better for workers, even though the jobs recovery is aging toward a ninth year. The total number of people receiving benefits also hit a generational low in May. Benefits are available to laid-off workers for up to 26 weeks in most states. Altogether, there were 1.7 million people receiving benefits in early May, the lowest such number since December of 1973. In comparison, there were over 6.5 million people receiving benefits in 2009, during the worst of the recession.