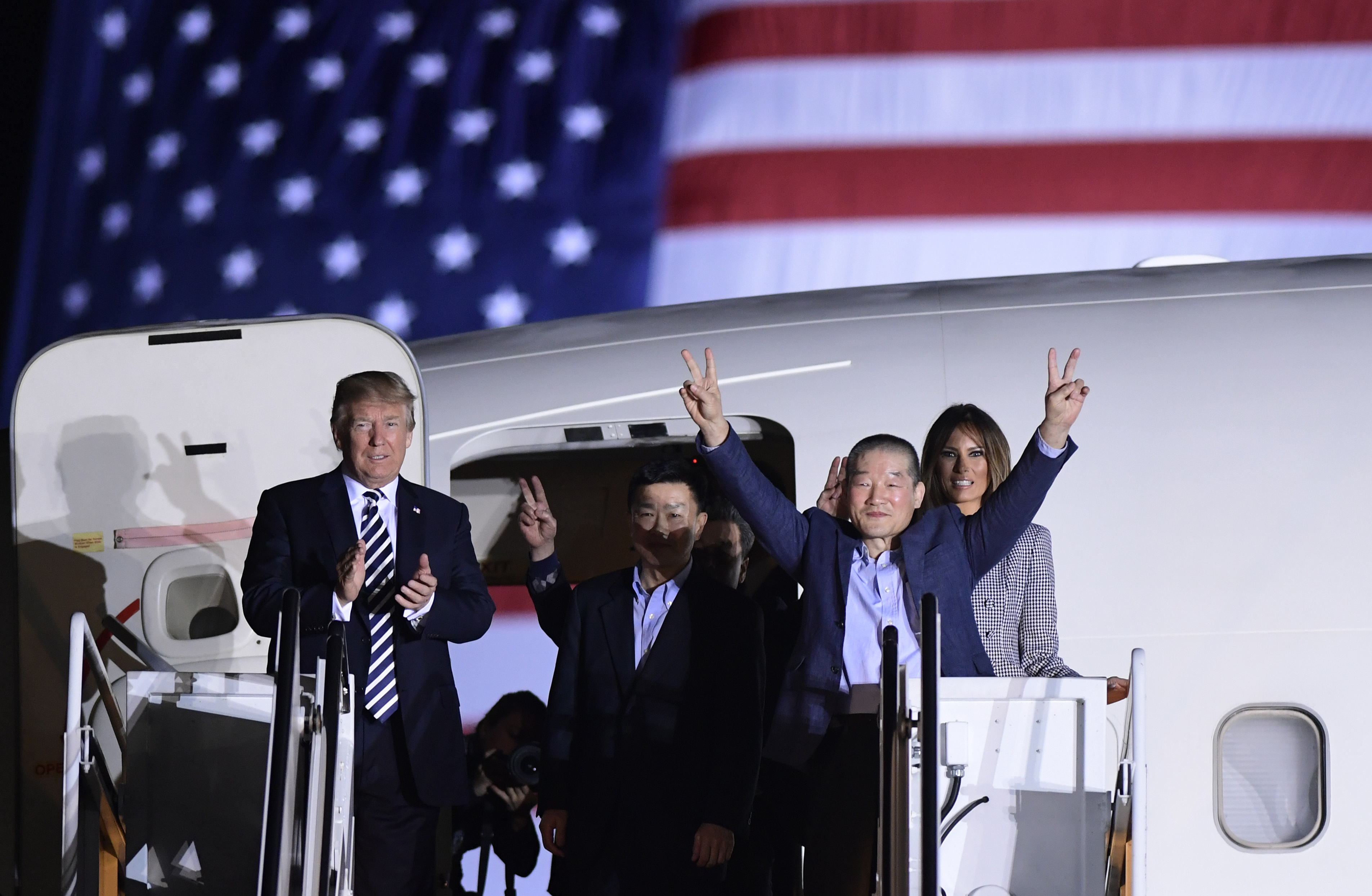 Here is the Daily Briefing for Thursday, May 10, where we round up the day's biggest headlines for your perusal. Take a look.

Trump Signs Executive Order Boosting Military Spouse Employment

President Donald Trump signed an executive order Wednesday that will boost employment opportunities for military spouses. "We are leading by example and encouraging American businesses across the country to expand job opportunities for our incredible, talented, and highly educated military spouses," POTUS said at the signing ceremony. "America owes a debt of gratitude to our military spouses." Military spouses currently are given preferential treatment in hiring for government jobs, and the new executive order hopes to find new and better ways to incorporate them into the workforce. One method Trump mentioned during Wednesday's event is allowing spouses to work remotely.

Israel Strikes Iranian Targets in Syria in Response to Rocket Fire

Israel says it has struck almost all of Iran's military infrastructure in Syria following an Iranian rocket attack. The Israeli military said 20 rockets were fired at its positions in the occupied Golan Heights overnight. It responded by launching what a spokesman called "one of the broadest aerial operations in recent years". There was no immediate comment from Iran, whose deployment of troops to Syria to back the government in the country's civil war has alarmed Israel. Iran has repeatedly called for an end to the existence of the Jewish state.

Trump Welcomes Home 3 American Detainees Released from North Korea: 'This is a Special Night'

President Trump congratulated the three Americans who were released from captivity in North Korea upon their arrival at Joint Base Andrews outside Washington early Thursday morning. The three men, Kim Dong-chul, Tony Kim and Kim Hak-song, were brought back to the U.S. by Secretary of State Mike Pompeo following a whirlwind trip to Pyongyang, his second in the last month, to set the table for Trump's much-anticipated summit with North Korean dictator Kim Jong-un. "This is a special night for these three really great people," Trump told reporters while standing next to the three former detainees at around 3 a.m. "And congratulations on being in this country." The three men are being taken to Walter Reed National Military Medical Center in Bethesda, Md., to evaluate their health and medical treatment. Trump is expected to meet with Kim Jong-Un in June. He has said a time and a place have been selected. Reports have indicated that the summit will take place in Singapore, but the White House has yet to make any formal announcements about logistics.

Pence on Mueller Investigation: 'It's Time to Wrap It Up'

Vice President Pence expressed hope on Thursday that special counsel Robert Mueller would soon wrap up his investigation into Russia's role in the 2016 presidential election, saying that doing so would be in the "interest of the country. What I think is that it's been about a year since this investigation began," Pence said in an interview on NBC's "Today" show. "Our administration has provided over a million documents, we've fully cooperated in it and in the interest of the country, I think it's time to wrap it up." Pence went on to say, "And I would very respectfully encourage the special counsel and his team to bring their work to completion." Mueller's probe does not appear close to ending, however. The special counsel is still reportedly aiming to interview Trump himself, though the president's lawyers appear reluctant to allow such a discussion.

Pompeo to Press U.S. Allies on Iran Nuclear Limitations

Secretary of State Mike Pompeo will press U.S. allies to pressure Iran to rein in its nuclear and ballistic missile programs, according to a Reuters report. The top U.S. diplomat, just back from North Korea, is set to embark on talks with allies from Europe, Asia and the Middle East in hopes of reentering into negotiations with Iran over its weapons programs. The renewed push to curb Iran's nuclear program comes days after President Trump declared that the U.S. would withdraw from the 2015 deal, which put strict limits on Tehran's nuclear activities in exchange for sanctions relief. According to Reuters, U.S. officials have already spoken with representatives from Germany, France and the U.K., as well as Israel, Japan, and Iraq, on how to move forward after Trump's withdrawal from the Iran deal.

Border Deployment Leads to Arrest Of 1,600 More Illegal Immigrants

U.S. Customs and Border Protection officers have apprehended an additional 1,600 people attempting to illegally enter the country from Mexico since April 15 as a result of the deployment of National Guard troops to the southwest border, CBP and defense officials said Wednesday. National Guard officials overseeing the border state deployments said troops helping monitor the international boundary have freed up more border agents to physically guard the border. The result has led to a surge in the amount of criminal activity agents have stopped. The increased surveillance and communication between guardsmen and border officers also led to CBP intercepting an additional 451 people who were turned back before illegally entering the U.S.

John McCain Calls on Senate to Reject CIA Nominee Gina Haspel

Sen. John McCain, R-Ariz., called on the Senate to reject Gina Haspel's nomination to become CIA director Wednesday, charging that she was unable to address concerns with her role in the use of enhanced interrogation techniques during the Bush administration. "I believe Gina Haspel is a patriot who loves our country and has devoted her professional life to its service and defense," McCain said. "However, Ms. Haspel's role in overseeing the use of torture by Americans is disturbing." "Her refusal to acknowledge torture's immorality is disqualifying," he added. "I believe the Senate should exercise its duty of advice and consent and reject this nomination." McCain, who is chairman of the Armed Services Committee, is unlikely to vote on the nomination as he continues to battle brain cancer and remains home in Arizona.

CNN Poll: Three-Quarters Approve of Trump's Plans to Meet with Kim Jong Un

About three-quarters of Americans (77%) approve of President Donald Trump's decision to meet with North Korean leader Kim Jong Un, according to a new CNN poll conducted by SSRS. Trump's approval rating for handling the situation with North Korea has jumped 10 points since late March. Overall, 53% approve of Trump's handling of North Korea, and 35% disapprove. That represents the first time a majority has approved of his handling of the issue and is a near reversal from his low point on the topic in November, when just 35% approved not long after Kim accused Trump of "mentally deranged behavior" and Trump responded by tweeting that Kim was "obviously a madman."