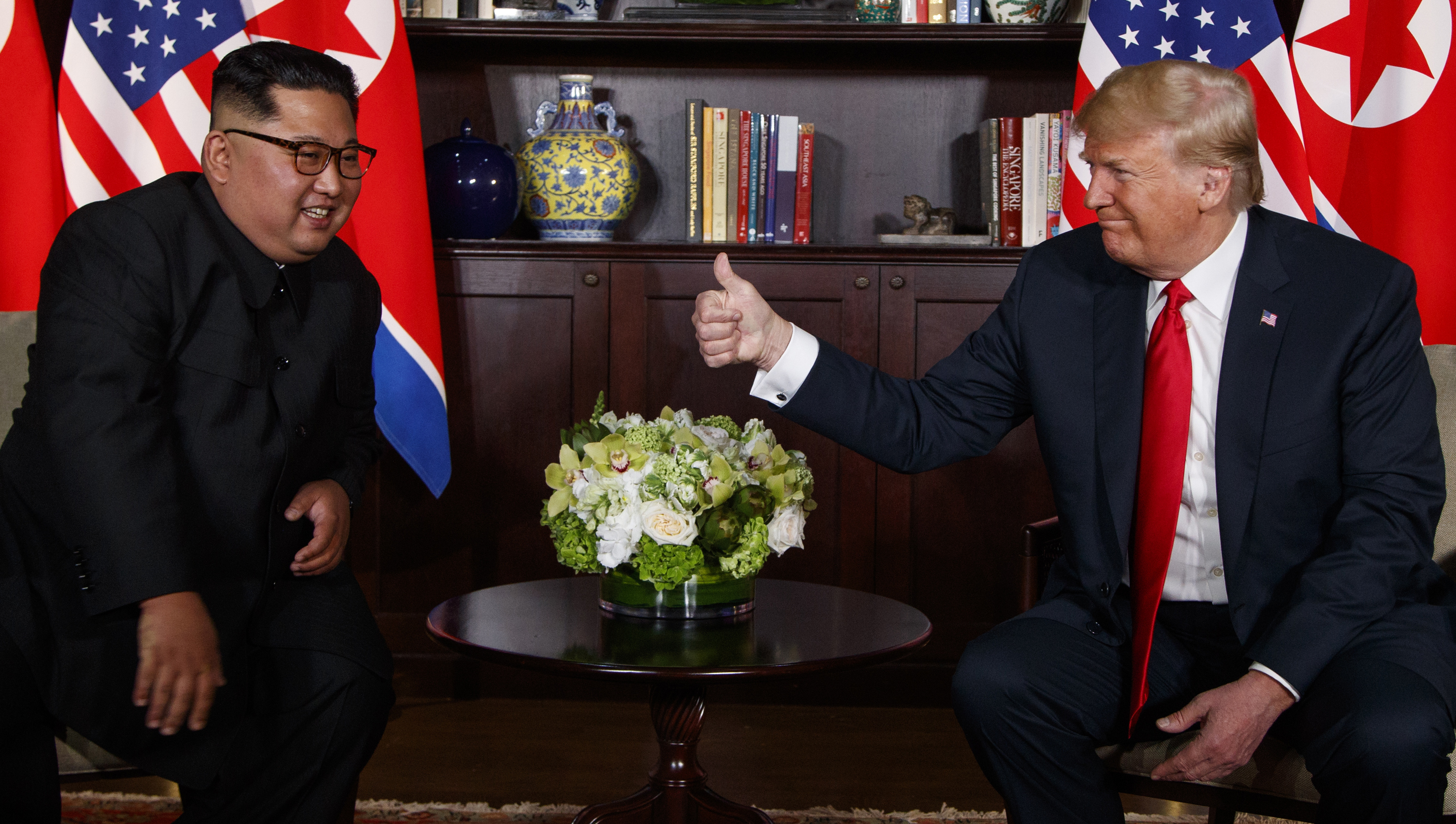 Here is the Daily Briefing for Tuesday, June 12, where we round up the day's biggest headlines for your perusal. Take a look.


Trump and Kim Jong Un Make Progress on North Korea

At the historic meeting between President Trump and Kim Jong Un in Singapore on Tuesday, the leaders signed an agreement committing the United States to unspecified "security guarantees" for Pyongyang in exchange for a denuclearized Korean peninsula. After the meeting, Kim thanked President Trump "for taking the first bold step toward a bright new future for his people."

Trump Holds Press Conference After Long-Awaited Summit in Singapore

After Trump's meeting with Kim Jong Un on June 12, Trump conducted a post-summit news conference. During the conference, Trump told reporters that, "We've [Trump and Kim Jong Un] spent very intensive hours together, and I think most of you have gotten the signed document or you will very shortly. It's very comprehensive, it's going to happen. I stand before you as an emissary of the American people to deliver a message of hope and vision and a message of peace…Our unprecedented meeting, the first between an American president and a leader of North Korea, proves that real change is indeed possible."

Poll Shows that America's Closest Allies are in Tatters

A recent Pew Research poll shows the relationships between the U.S. and our allies are not doing well. After 9/11, during G.W. Bush's presidency, there was a considerable amount of goodwill aimed at the U.S. During Obama's presidency things stayed pretty stable, but once Trump was elected the polling drastically decreased, the only exception was Russia. Will Trump be able to achieve higher polling numbers among foreign leaders?

White House Adviser Apologizes to Canadian PM Trudeau

On Tuesday, Peter Navarro, a White House trade adviser, apologized to Canadian Prime Minister, Justin Trudeau. Navarro said on Sunday that "there's a special place in hell" for Trudeau, who is in a trade dispute with President Donald Trump. In Navarro's apology, he said, "My job was to send a signal of strength. In conveying that message I used language that was inappropriate and basically lost the power of that message."




Robert De Niro Refuses to Leave Trump Alone

Actor, Robert De Niro, traveled to Toronto, Canada, for a hotel groundbreaking ceremony. During De Niro's speech, he apologized for President Trump's behavior towards Canadian Prime Minister, Justin Trudeau. De Niro said, "I just want to make a note of apology for the idiotic behavior of my president," which was in response to Trump's comments over the weekend calling the Canadian Prime Minister "dishonest" and "weak." The actor added, "It's a disgrace. And I apologize to Justin Trudeau and other people of the G7 [Summit]. It's disgusting."

Trump Would Support Bill on Ending Ban on Marijuana

Senators Cory Gardner (R-CO) and Elizabeth Warren (D-MA) released a proposal to amend the Controlled Substances Act. This bill would prioritize the right of each state, removing the threat of federal law enforcement. As Trump was heading to the G-7 summit in Canada he said that he would be willing to support a bill that would end a federal ban on pot.

Joe Scarborough Feels Relief After Trump-Kim Summit

Rare praise was offered by MSNBC anchor Joe Scarborough on Tuesday following Trump's summit with North Korean leader Kim Jong Un. Scarborough said, "I've got to admit: When I see these two people shaking hands, I feel a sense of relief, as do a lot of people in Washington, knowing how bleak the situation was six months ago," Scarborough, co-host of the cable news network's "Morning Joe" program, said of Trump and Kim.