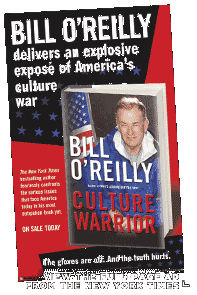 My 4th non-fiction book, Culture Warrior, is now available. As you might know, it's called Culture Warrior and it chronicles the intense war between my side (traditionalists) and the secular-progressive corps. Just a quick definition: Traditionalists believe America is a basically a noble country. We have flaws but at our core, the USA is a positive force in this world, a country that has done enormous good. Secular-progressives (S-P's), however, believe the United States is a flawed nation in need of a drastic overhaul.

The media is firmly in the S-P camp and it will be very interesting to see how vehemently this book is attacked. It's already started in Vanity Fair magazine and in Publisher's Weekly (whose publisher, by the way, is a major donor to S-P political figures). Of course, we will keep score on who is fair and who is unfair concerning the book. I expect to be greatly amused.

My previous three adult non-fiction books all hit number one on the New York Times bestseller list (the paper declined to review any of them, which is just as well). The Factor for Kids book, also, was the bestselling book of its kind in 2005. I can't thank you all enough for making this possible.

Culture Warrior is by far my most controversial and pointed book. In fact, it is downright fierce in its exposure of what is going on behind the scenes in America and how the S-P movement is making gains in dramatically changing this country. Names are named, and unimpeachable research nails down my points. You may not agree with me on some things, but you'll learn an enormous amount about what's really going on in the USA by reading this book, and much of it will make you angry.

So I hope you'll consider Culture Warrior. Click here to tell if you are a traditionalist or an S-P warrior. And be sure to take a look at the first part of the book.

So the fall promises to be an interesting time for the Factor. October 7th is the tenth anniversary of Fox News, I'll be around talking about Culture Warrior (Leno, 20/20, Good Morning America, The Today Show, The View, The CBS Morning News, maybe Letterman), and we'll keep you posted every step of the way, so stay close to the website. Also, if you see any cheap shots directed at us—please inform us via the message boards. We always value your input.

Finally, let me know what you think of Culture Warrior and I'll read some of the letters on the air. This book could very well change the direction of the country. In fact, I can almost guarantee it will.



Back to the Culture Warrior Homepage